E-News
Join over 500 Christ Memorial and Reliant members who receive church updates and timely Christian insight by email. Most emails come directly from our pastors. Christ Memorial does not sell or share registrants' information, so you should not receive unsolicited e-mail as a result of registering with us.
InTouch Weekly News
Our InTouch Newsletter is a brief weekly update on church happenings, typically passed out with the Sunday worship folder.
DOWNLOAD January 14 – January 21 In Touch
DOWNLOAD January 7 – January 14 In Touch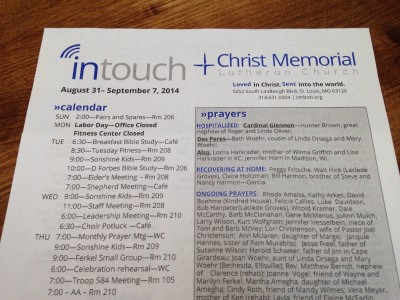 Clarion Monthly News
The Clarion is an extended, full-color monthly newsletter including articles and photos. It is typically mailed to all members.
DOWNLOAD the  December 2017/January 2018 Clarion
DOWNLOAD the November 2017 Clarion