Production Participant Information
Seussical
Welcome from Dianne Mueller, Director
---
Welcome to CMP's Seussical adventure.  I am extremely excited to have the opportunity to work with each and every one of you. This is going to be a fun and exciting show.  What an amazing privilege it is for all of us as we bring the whimsical world of Seuss to life.  I would like to thank all of you for agreeing to be a part of this magical and creative adventure.
The running theme throughout this entire production will be "A person's a person no matter how small" – Dr. Seuss.  This statement is so true in this show and in the world in general. We all have an important role in God's creation and in this show as well.  So as we embrace our roles may the love and all the beauty around us shine through all we do!
Love to all of you,
Dianne Mueller
THE SCHEDULE FOR THE REMAINDER OF SEUSSICAL IS AS FOLLOWS:
Thursday, Sept 15
–Cast photo today before practice-at 7
–Please be present at 6:30 pm to get on mics and to be ready for mic check at 6:45 and to start pics at 7 pm.
–Costume, makeup and add Hair as well.
Friday, Saturday, Sunday Sept 16-18…performances…call time is 1 hour prior to the performance (6:30 Friday/Sat, 1:30 Sun).  House Opens at 7 (2).  If you arrive late, do not enter through the house…go directly backstage.  We will be done with mic check by 6:45 (1:45) and vocal warm-ups by about 7 (2) pm.  We meet in the "green room" at 7:10 (2:10).
Thursday, Sept 22
–Brush up…with mics…no costumes or hair or makeup…arrive 6:30 to get mics and be ready to run at 7.
Friday, Saturday, Sunday Sept 23-25…performances…same timing as the prior performances.
Please let Larry know of any conflicts you have. (CMP@CMPShows.org).
CLICK HERE for the Seussical Song List (as of July 19)
The Song List tells you which songs you are in while the Rehearsal Schedule indicates the songs (or other items) to be covered at each rehearsal.  Note that the Song List initially lists songs for "All Cast" … which means everyone in the cast … and then lists the additional songs each person is in based on  your role in the production.   This should make it easy for you to tell which rehearsals you are needed at.
Questions…just email CMP@CMPShows.org and we'll try to help you.
---
Seussical Photos
Cindy Tiefenbrunn, Cindy's Photo, cindysphoto.com, has provided cast, cast and crew, and orchestra photos as well as 942 performance photos from final dress.
Links:
Please tag Cindy Tiefenbrunn if used on Facebook, or credit CindysPhoto.com in all uses.  Thank you.  Enjoy!
Thanks.
---
CAST DINNER – update from Lynette Jost Sept 21
Everyone is invited to stay following our Sunday performance for dinner for a time of food, fun and fellowship! Food will be provided. Please let Lynette Jost know how many from your family will attend, either in the FaceBook Private Cast and Crew Group  or in an email to Tickets@CMPShows.org. We will also do some of the strike of the set and clean up. See you tomorrow!
---
PARKING UPDATE
Some important logistics info for PARKING. We have very limited parking…and especially so on Saturday night and Sunday…so…Cast, crew, orchestra…are encouraged to park behind the building or, after about 5:30 pm on Fridays, in the daycare spots on the side by the playground or by the daycare entrance…or way off to the far side of the parking lot…to leave as many spaces available for the attendees as possible. The daycare door from outside will be open for us from 6-7 pm Friday and Saturday and from Noon-2 pm on Sunday. There are also double doors towards the dumpster in the back of the building. They will be unlocked 5-7 pm Fridays and Saturdays and Noon-2 pm on Sundays.
---
Sept 15 Update from Karen Dickey
Dear Cast and Crew,
Everyone needs to sign the mattes in the "microphone room" in the back. There are 15 mattes to go in frames and every cast and crew member needs to sign each of the 15 mattes. There will be two tables set up that will have the mattes and pens on them. When you sign them:
Please do not sign too big (we need to get about 100 signatures on them).
Please sign neatly( (these are nice gifts that will be displayed proudly).
Do not sign too close to the outer edges of the matte (the frame will cover a small portion of the matte)
Please make sure that your hands are clean before signing (they are white mattes and we don't want any unnecessary smudges)
The mattes will be displayed each night through Sept 23 starting tomorrow night Sept 16. Please sign them as soon as you can. Again, we will be giving these gifts (matted and framed posters) on Sunday, Sept 25 at the cast party. Thanks everyone! You all are so awesome and I am so proud to be part of this show with all of you! Oh, the places WE'LL go!!!!!
A very VERY delighted "Who", Karen Dickey
---
Sept 6 Who Hair Update from Dianne
There have been questions about Hair. I do not want colorful hair. I want natural hair colors.
Nools, Space buns or pony, or pig tails all good. These can be your "ears"
Whos (again natural colors) I would like Who type styles. this does not require wigs, however you may use wigs if you need to or would like.
Here are some examples. I hope this helps.
There are people in the Cast who know how to do these types of Hair styles..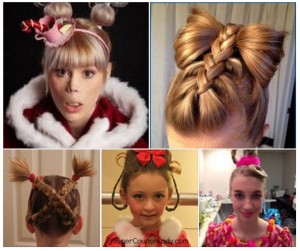 ---
Sept 7 Costume and Makeup Items
Nool Makeup – from Rachel Mueller
I will be doing the nool's eye makeup. The nools will need to have either black or brown liquid eyeliner. If you would like to you can get eyelashes but you don't have to. Thank you.
Who Makeup – from Dianne Mueller
Who makeup should be rosy cheeks and noses. (not clown like, just some color.) big eyes. Color on eyes. Not overdone, but some color. https://www.youtube.com/watch?v=srpnWgPP3UM  This video is pretty detailed, you don't have to go to this much trouble but this is the look I am wanting.
Who Leggings Question – from Karen Lee
Quick survey: Would all Who's that still need tights/leggings/socks please comment on Karen's Facebook post or reply to this email and Larry will forward it to Karen. We can get more, but I would like to check my inventory and know how many we need. Many thanks!
---
Sept 7 Costume Updates from Krysta Wenski
Letting everyone know that fun whimsical hats and hairpieces are also available for who's. You can use these with wigs( if they work), or in place of super crazy hair/wigs.
FYI …. If people are thinking crazy braids that stick up etc. Floral wire(which comes on a paddle), works great for this. You just braid it into the hair, as you braid and cut to length you need.
---
Rehearsal Videos – Please do not share.  Some others that have been posted directly in Facebook are available at the Secret Facebook page for cast and crew.
How Lucky-2nd Reprise-end Act 1 Sept 1
Finale Aug 29
Here on Who Aug 25
Egg Nest Tree Aug 22
Thinks you can Think Aug 21
People v Horton Aug 21
Hunches Finger/Hands Dance Aug 19
Solla Sollew Aug 19
---
Costume Updates 
PLEASE bring a garment bag for your outfit(s).  Please place your name on your bag.
From Karen Lee August 27
Link to the Costume Detail Document (PDF) as of 8/27/2016
Okay, folks … costume chart link is above! A few notes:
1. We will be making more accessories for Whos and Nools (in progress), so you will get fun jewelry/hats/belt buckles, etc. to go with your outfits. We also will be embellishing some of the dresses and shirts with fun details. **If you have something of your own that you WANT to wear either in place of what we've marked for you or along with what we already have set aside, please bring it and show it to me. Help is much appreciated, and we want you to love what you're wearing.**
2. There are still quite a few unclaimed costume possibilities in the back. We have more Nool shirts and leggings, Who dresses, Circus costumes (girls and women), Who accessories (scarves, belts, tights, patterned socks), shirts and some accessories for Who men and boys. If you need any pieces to complete your costume please check there first!
2. I will post another announcement/directive about hairstyles and make-up. That's coming, but we wanted to get costumes in place first.
3. I have done my best to provide everyone individual information based on what we currently have marked in the costume room and what we know we still need. The probability that I've missed something or gotten it wrong is … certain. **If you see something that is wrong or missing from your costume description in the chart, please message me on the cast and crew  FaceBook page or come see me. We'll fix it.
4. I am planning to be there for most if not all of rehearsal on Sunday. If you need to find me with questions, i will be in the back room fitting people, sewing, crafting, and organizing. Flag me down!
---
Facebook Event – The link to the Facebook event for the performances of Seussical is here.  Please invite your friends and family!
---
Ticket Sales –  See CMPShows.org for the sales link.  
PLEASE do not order Opening Night Reception Tickets online.  We will provide special pricing and handle that at rehearsals.
---
Cast and Crew List: Looking for the cast and crew list?  See CMPShows.org.
---
Schedule Conflict Changes/Questions? Email Larry Jost at CMP@CMPShows.org or text at 314-223-3162.
---
CMP FaceBook Page – for general public information on the show
---
---
Cast and Crew FaceBook "Secret" Group and other Communications  – Information for cast and crew will be made available here, emailed, and posted on the Cast and Crew FaceBook page.  If you do not yet have access to the FaceBook page, please email CMP@CMPShows.org to ask Larry to help out!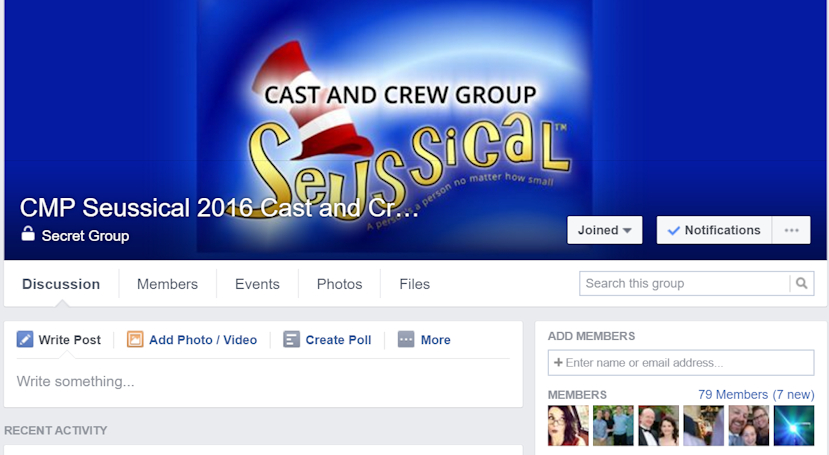 ---
Guidelines – We do have some guidelines for participants concerning use of the facility, care of others, and working as a team.  A copy of that document is  HERE to download.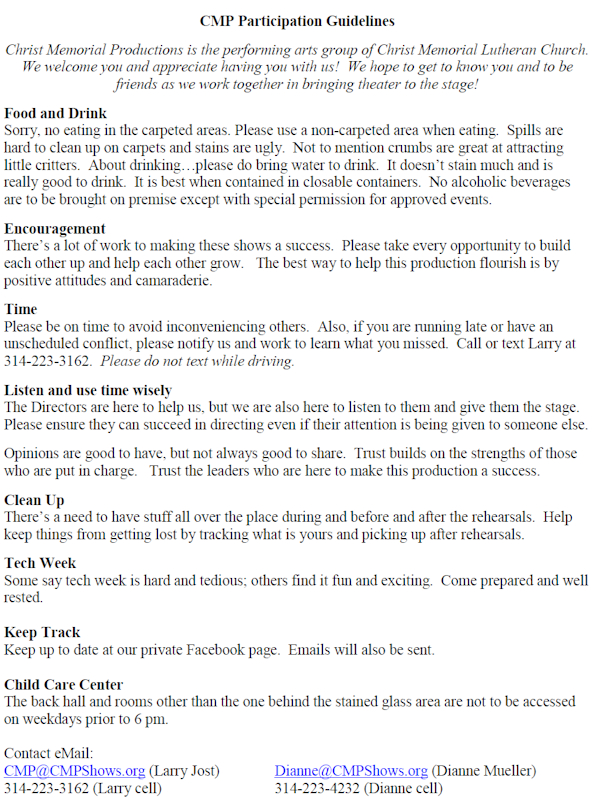 ---
---