---
September 2016
Auditions June 25
Seussical

---
Seussical is a fun and popular musical that combines elements of several of the most popular works of Dr. Seuss.  The production is entertaining and fun for everyone but also carries messages of commitment, responsibility, and the value of all people that will resonate with adults.  We hope to see you at the show!
Performances will take place on September 16, 17, 23 & 24, 2016 at 7:30 pm and on September 18 & 25 at 2:30 pm.
Ticket sales will begin at 2 pm on July 30 both from a link on this page and at the church.  Please sign up for our newsletter to keep informed, or check back for additional details.  Ticket prices will range from $10-$20 for ages 13 and over and $5-$15 for children 12 and under.
Auditions will take place on June 25 from Noon – 4 pm at Christ Memorial Lutheran Church.  We anticipate rehearsals to begin July 25 and to take place on Sunday afternoons and on Monday, Tuesday, and Thursday  evenings, details to be determined at a later date.  Click here for an audition form.
---
Leadership & Crew
Many opportunities are still being filled.
Director &  Production Implementation:  Dianne Mueller
Choreographer:  Glenn Guillermo
Music Director:  Gregg Mueller
Music – Orchestra Conductor:  Mary Wiley
Music – Vocals:  Kristine Gage
Lighting Design:  John Jauss
Stage Manager:  Lauren Kreienkamp
House Manager/Publicity/Ticket Sales: Lynette Jost
Facility Coordinator:  Kathy Poppitz
Set Design/Build:  Dianne Mueller
Props:  Megan Panarusky
Sound Board Technicians:  Bob Bentrup
Light Operators:  Kevin Dickey
CMP Business Manager/Sound Design:  Larry Jost
---
Download a Poster
---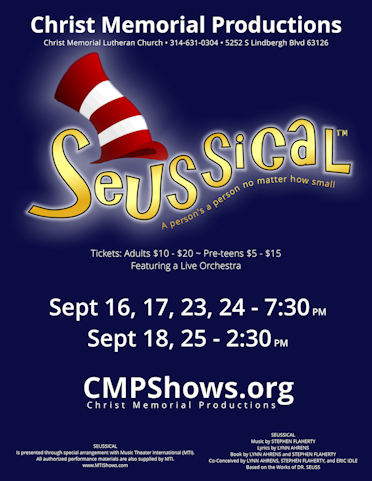 ---
---
  Receive CMP News

Join our mailing list to stay updated on all of our performances!
SIGN UP
---
 Become a Patron

Would you like to provide financial support to CMP?  If so, our Patron Program is for you. Check out the benefits!
LEARN MORE
---
  About CMP
Learn more about CMP and our ministry.
LEARN MORE
---
---
  Performance
History & Awards
Take a look at what we've done, and where we've excelled.
VIEW HISTORY & AWARDS
---
  Contact Us

SEND AN EMAIL
---