---
Click Here to Order Seussical Tickets
September 2016
Seussical

Click Here to Order Seussical Tickets
---
CLICK HERE TO ORDER TICKETS.  Ticket prices range from $10-$20 for ages 13 and over and $5-$15 for children 12 and under.  For group ticketing or other ticketing questions please email us at Tickets@CMPShows.org.  OPENING NIGHT RECEPTION tickets are $10 for adults, $5 for children.  Good food, soft drinks, and beer and wine will be provided after the opening night performance for people presenting reception tickets.
Seussical  is a fun and popular musical that combines elements of several of the most popular works of Dr. Seuss with focus on the central theme: "A person's a person no matter how small".    The production is entertaining and fun for everyone.  We hope to see you at the show!
Performances will take place on September 16, 17, 23 & 24, 2016 at 7:30 pm and on September 18 & 25 at 2:30 pm.
---
Cast
The Cat in the Hat – Libby Griesedieck
Horton The Elephant – Joel Brown
Mazie La Bird – Emma Reinagel
Gertrude McFuzz – Melissa Felps
JoJo – Victor Rocha
Sour Kanagaroo – Jessie Owens
General Gengus Khan Schmitz – John Jauss
Mr. Mayor – Jonathan Ramsey Wenski
Mrs. Mayor – Kathy Eichelberger
Wickersham Brother – Louis Luong
Wickersham Brother – Jakeb Reynolds
Wickersham Brother – Aaron Kamphoefner
Yertyl The Turtle – Kevin Jones
Thing 1 – Emily Clements
Thing 2 – Ella Blase
Bird Girl – Jennifer Kerner
Bird Girl – Bethany Hamilton
Bird Girl – Kira Averett
Circus-Juggler – Andrea Schanz
Who, Circus-Juggler – Isabelle  Zurcher
Who, Circus-Clown/Acro,Military – Tony Jaskiewicz
Who, Military – Quincy Newcomb
Who, Military – Jackson Ehlen
Who, Military – Matthew Taylor
Who, Military – Joshua Stroups
Who, Military – John McCreary
Who, Military, Grinch – Robert Jones
Who – Julia Kuschel
Who – Katelyn Dickey
Who – Karen Dickey
Who – Sarah Ehlen
Who – Hannah Taylor
Who – Elizabeth Nolting
Who – Sarah Nolting
Who – Niki Newcomb
Who – Kira Newcomb
Who – Kerri McFarland
Who – Allison Harvey
Who – Jenna Heres
Who – Nataleigh Scheller-Houska
Who – Grace Adam
Who – Brea Johnson
Who – Rose Garland
Who – Lucy McReynolds
Who – Anna Kuschel
Who – Lindsay Miller
Who – Sarah Dubberke
Who – Catherine Stanish
Who –Sarah Page
Nool Jungle Creature, Circus-Juggler – Rachel Mueller
Nool Jungle Creature ,Circus-Clown/Acro – Makayla Adams
Nool Jungle Creature, Circus-Clown/Acro – Summer Street
Nool Jungle Creature, Circus-Clown/Acro – Lorden Monie
Nool Jungle Creature, Circus-Clown/Acro – Leah-Marie Geil
Nool Jungle Creature, Circus-Clown/Acro – Clare Bugala
Nool Jungle Creature, Circus-Tumbling – Allison Crandall
Nool Jungle Creature, Circus-Tumbling – Lillie Robinson
Nool Jungle Creature – Madison Heady
Nool Jungle Creature – Lilian McMurry
Nool Jungle Creature – Bella Cloeter
Nool Jungle Creature – Grace Herzog
Nool Jungle Creature – Bethany Lewis
Nool Jungle Creature – Jessie McKee
Nool Jungle Creature – Sarah Millsaps
Nool Jungle Creature – Grace Wilkinson
Circus – Jamie Zayas
Circus – Vanessa Waggoner
Leadership & Crew
Many opportunities are still being filled.
Director &  Production Implementation:  Dianne Mueller
Choreographer:  Glenn Guillermo
Music Director:  Gregg Mueller
Music – Orchestra Conductor:  Mary Wiley
Music – Vocals:  Kristine Gage
Costumers:  Karen Lee, Krysta Wenski, Dianne Mueller
Costume Assistance:  Donna and Dave Park
Set Design:  Dianne Mueller
Lighting Design:  John Jauss
Circus and Aerial Acrobatics Choreography: Kinetic Tapestry
Stage Manager:  Lauren Kreienkamp
Stage Crew: Mackenzie Bick, Chris Gubser, Joe Harwell
House Manager/Publicity/Ticket Sales/Program: Lynette Jost
Facility Coordinator:  Kathy Poppitz
Set Build, Painting:  Dianne Mueller, Ron Averett, John Jauss, Kevin Jones. Bill Orrick
Props:  Megan Panarusky
Props Crew: Betty Rowold, Cheri Miller, Brian Page, Dianne Mueller
Sound Board Technicians:  Bob Bentrup, Bill Orrick, Keith Hampton
Light Operators:  Kevin Dickey; Kevin Wilkinson, Debbie Brewer
Videographer:  Rebecca Mueller
Stage Buildout:  Gary Gregory
Mic and Backstage Support: Donna Wilkinson, Terrie Bick, Kevin Wilkinson, Joe Harwell
Tech Support:  Tony Lupo; Dan Geiger
Refreshments Coordinator:  Tammy Herzog
Program Printing:  Ruth Hertlein
Opening Night Reception: Margie Heimrich
CMP Business Manager/Sound Design:  Larry Jost
---
Download a Poster
---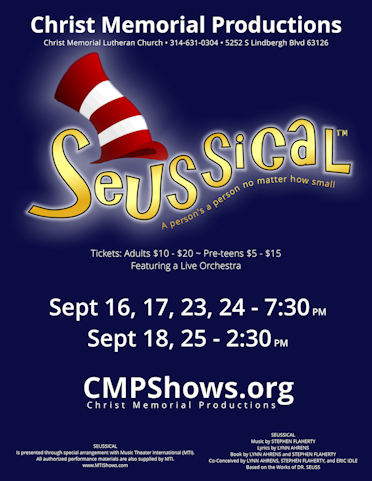 ---
---
  Receive CMP News

Join our mailing list to stay updated on all of our performances!
SIGN UP
---
 Advertise or Post a Message in the Seussical Program

Due Sept 1 – place an advertising or a shout-out in our Seussical Program.  A great way to honor a cast member or gain publicity for your business while supporting CMP!  Please download the form, print it and provide the information requested and mail it in with payment.  Questions: please contact Tickets@CMPShows.org.
DOWNLOAD THE FORM
---
 Become a Patron

Would you like to provide financial support to CMP?  If so, our Patron Program is for you. Check out the benefits!
LEARN MORE
---
  About CMP
Learn more about CMP and our ministry.
LEARN MORE
---
---
  Performance
History & Awards
Take a look at what we've done, and where we've excelled.
VIEW HISTORY & AWARDS
---
  Contact Us

SEND AN EMAIL
---