Trivia Night   –    April 21, 2017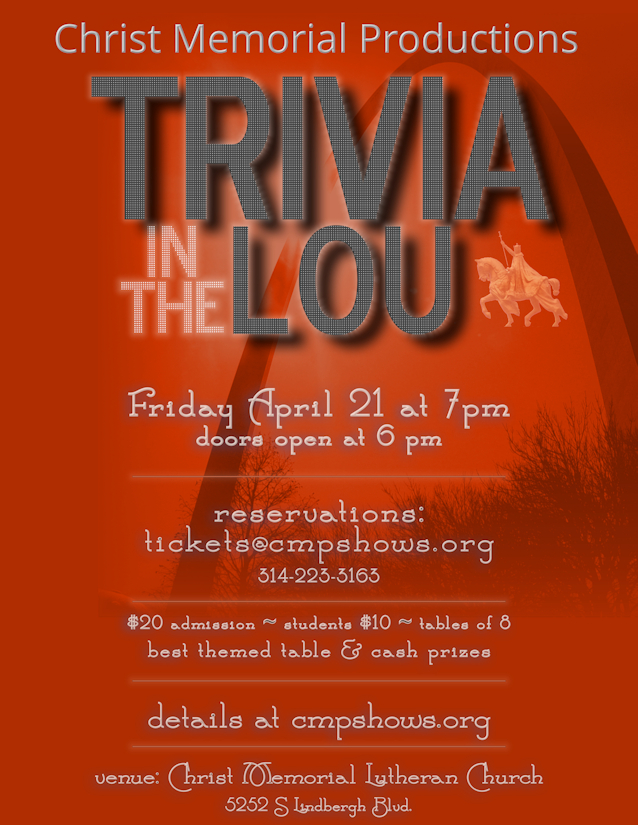 Plan to Join us for an evening of Trivia in the Lou.
April 21 at 7 pm, doors open at 6 pm.
Tables of 8.  $20 per person admission. $10 for students.
Soda, water, beer and light snacks will be provided.
Best St. Louis Themed Table and Cash prizes.
Round Sponsorship: $50.00
To reserve  your table or to become a round sponsor, please contact:  Tickets@CMPShows.org or call 314-223-3163
Hard alcohol is not permitted, you may bring food and soft drinks and for of-age attendees beer or wine.
---
Download a Poster
Meet Me In St Louis – September 2017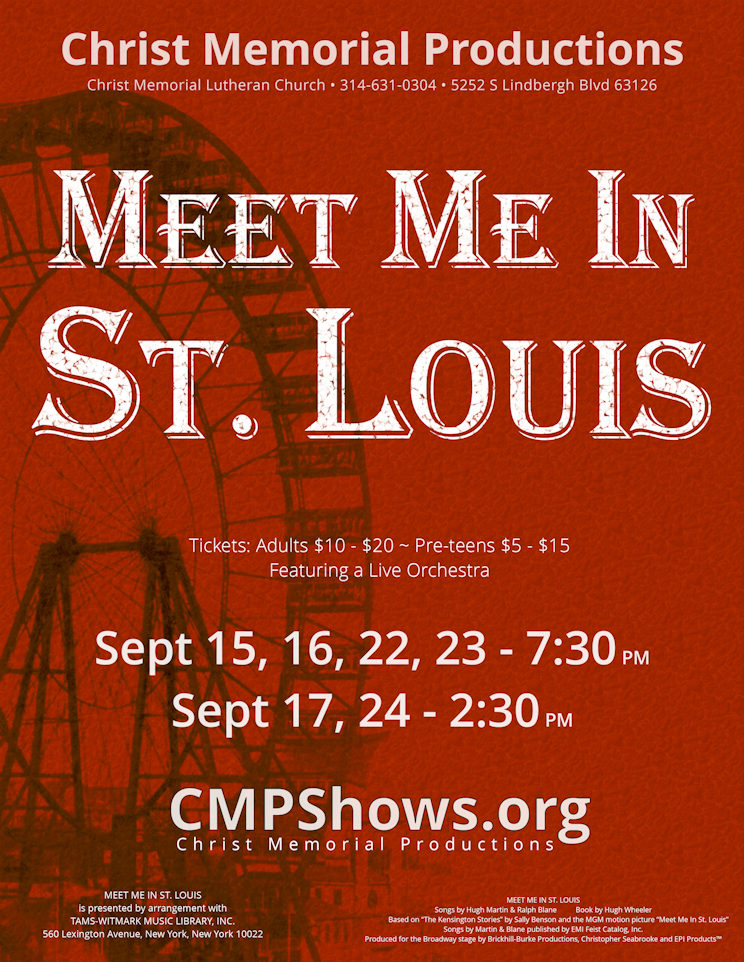 Christ Memorial Productions is pleased to announce that we will be performing Meet Me In St. Louis as our Fall 2017 Production.
Performances are set for 7:30 pm on Fridays and Saturdays September 15, 16, 22, and 23  and for 2:30 pm on Sundays September 17 and 24 at Christ Memorial Lutheran Church, 5252 S. Lindbergh Blvd.
Tickets for adults will range in price from $10 – $20 and for pre-teens from $5 to $15.
Advance Tickets for this event will be made available beginning in August of 2017.  Please be sure to check back or sign up for our newsletter to be notified.
For group ticketing, you may contact Lynette Jost at Tickets@CMPShows.org 
AUDITIONS will take place on June 24 from Noon – 4 pm, also at Christ Memorial Lutheran Church.  Please Click Here for an audition form and additional information on auditions.
---
---
Directors and Production Leadership Team
Director and Production Implementation:  Dianne Mueller
Choreographer:  Glenn Guillermo
Music Director and Rehearsal Accompanist:  Gregg Mueller
Vocal Coach: Kathy Eichelberger
Orchestra Conductor: Joe Paule
Lighting Design:  John Jauss
Costumers: Kevin Jones,
Set Design: Dianne Mueller
Stage Manager:  Lauren Kreienkamp
Assistant Stage Manager:  Mackenzie Bick
Properties Manager:
House Manager, Publicity, Program:  Lynette Jost
Facility Manager:  Kathy Poppitz
CMP Business Manager, Sound Design & Mixing: Larry Jost
(additional information will be provided at a later date)
---
Production Staff and Crew
Set Build and Artists:
Sound Board Technicians:  Bob Bentrup, Bill Orrick
Backstage Technical Support: Donna Wilkinson, Terrie Bick
Lighting Operators: Kevin Dickey, Kevin Wilkinson
Stage Crew:
Properties Crew:
House Technical Support:
Program Printing: Ruth Hertlein
Closed Circuit Video Operation:
Refreshments: Tammy Herzog, Debbie Brewer
Opening Night Reception:
Stage Build Out:
Event Photography:
(additional information will be provided at a later date)
---
---
Download a Poster
---
MEET ME IN ST. LOUIS
Songs by Hugh Martin & Ralph Blane Book by  Hugh Wheeler
Based on "The Kensington Stories" by Sally Benson
and the MGM motion picture "Meet Me In St. Louis"
Songs by Martin & Blane published by EMI Feist Catalog, Inc.
Produced for the Broadway stage by
Brickhill-Burke Productions, Christopher Seabrooke and EPI Products™
MEET ME IN ST. LOUIS is presented by arrangement with TAMS-WITMARK MUSIC LIBRARY, INC. 560 Lexington Avenue, New York, New York 10022
---
  Receive CMP News

Join our mailing list to stay updated on all of our performances!
SIGN UP
---
 Be a CMP Patron

We always appreciate our Patrons for their financial support.  Other benefits are also provided.  Simply click the button below to learn more.
Patron Form
---
  About CMP
Learn more about CMP and our ministry.
LEARN MORE
---
  Performance
History & Awards
Take a look at what we've done, and where we've excelled.
VIEW HISTORY & AWARDS
---
---
  Contact Us

SEND AN EMAIL
Erin Bode:  A Concert for Lent – March 10, 2017
We have reached our capacity for the concert seating and are no longer able to offer additional tickets.  Thank you for your interest.  Please consider joining us for the other events shown on this page and be sure to sign up for our newsletter.  Thank you!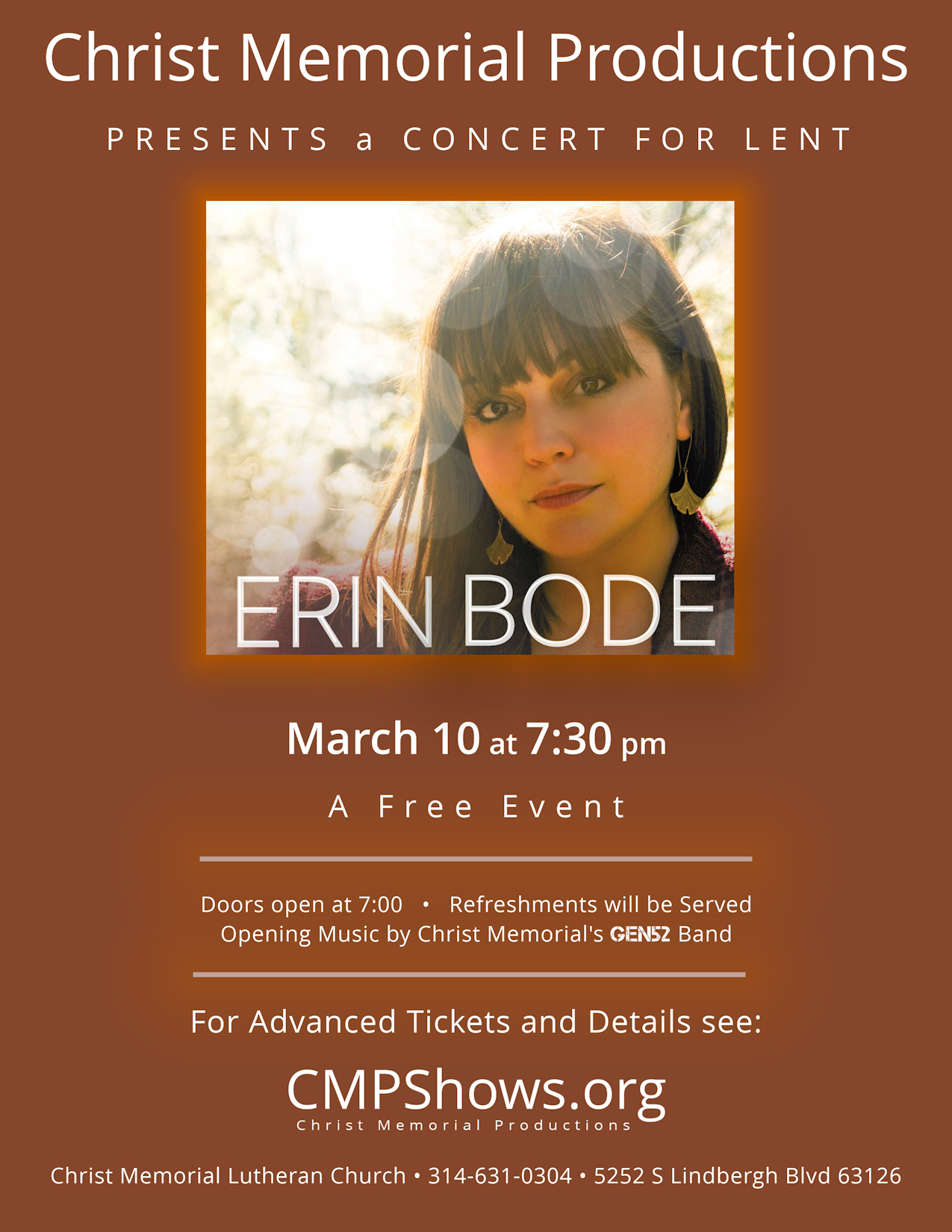 Christ Memorial Productions is pleased to present a Free concert featuring Erin Bode.
The event takes place on March 10, 2017 at Christ Memorial Lutheran Church, 5252 S. Lindbergh Blvd.  Doors open at 7 pm.  Along with erin Bode will be vocalists Sarah Lancaster and Mary Kate Walton as well as Syd Rodway on guitar, Tara Santiago on cello, and Mark Colenburg on drums.
In addition to Ms. Bode's presentation of secular and sacred music, the event will include an opening act performance by Christ Memorial's GEN52 Band, featuring the vocals of Dianne Mueller and John Jauss, with doors opening and live music, featuring Keith Poppitz and Mark Strege, beginning at 7:00 p.m. Refreshments will be provided.
Learn more about Erin Bode at ErinBode.com, click Listen  or Video for samples of her work. According to Ms. Bode's website, her music is "infused with jazz grooves and made magic by Bode's bell-like voice. Sophisticated arrangements and attention to phrasing, both vocal and instrumental, further distinguish the band's fresh sound." Ms. Bode's most recent album, Here & Now was released in 2016.
A freewill offering will be collected to help defray costs.
Please sign up for our newsletter to be kept up to date.
You may contact Lynette Jost at Tickets@CMPShows.org with ticket questions.
---
Download a Poster
---