Please Click Here to Order Tickets
---
Meet Me In St Louis – September 2017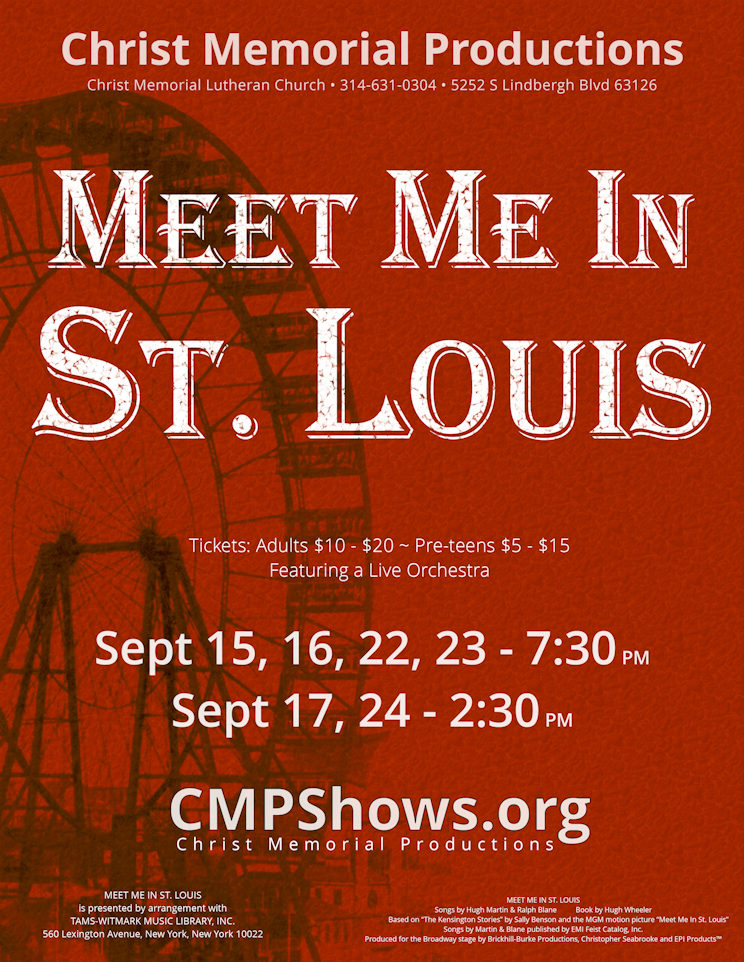 Christ Memorial Productions is pleased to announce that we will be performing Meet Me In St. Louis as our Fall 2017 Production.
Please Click Here for Ticket Information or to Order Tickets.
Performances are set for 7:30 pm on Fridays and Saturdays September 15, 16, 22, and 23  and for 2:30 pm on Sundays September 17 and 24 at Christ Memorial Lutheran Church, 5252 S. Lindbergh Blvd.
Tickets for adults will range in price from $10 – $20 and for pre-teens from $5 to $15.  Please Click Here for Ticket Information or to Order Tickets.
Please sign up for our newsletter to receive CMP updates.
For group ticketing, you may contact Lynette Jost at Tickets@CMPShows.org 
---
Cast 
Mr. Alonso Smith:  Bruce Roberts
Mrs. Anna Smith: Heather Sartin
Lon Smith: Joel Brown
Rose Smith: Lisa Grove
Esther Smith: Jennelle Gilreath
Agnes Smith: Allison Crandall
Tootie Smith: Elena Adams
Grandpa Prophater: Keith Poppitz
John Truitt: Caden Turner
Warren Sheffield: Trey Marlette
Lucille Ballard/Singer Ensemble Family: Gracie Sartin
Katie: Katie Klein
Eve/Singer Ensemble Family: Lucy McReynolds
Postman/Singer Ensemble Family: Robert Jones
Clinton Badger/Teen Dance Ensemble: Nathan Gallop
Peewee Drummond/Teen Dance Ensemble: Louis Luong
Sidney Purvis/Teen Dance Ensemble: Tony Jaskiewicz
Motorman/Ensemble Family: Rich Goolsby
Dance Ensemble
Aidan Kelly, Brianna Blase,  Caleb Almany,  Emily Gregg, Emma Reinagel,
Gabriel Maupin, Gillian Pieper, Grace Wilkinson, Isabelle Zurcher,
Jess Gerst, Jessie Owens, Libby Griesedieck,  Makayla Adams,
Rachel Mueller, Sabrina Furman, addnl. waltzer Kevin Jones
Singer Ensemble Family
Dan Ellerbrook, Grace Herzog, Jennifer Kerner,
Jim Wamser, John Jauss, Kathy Eichelberger,
Katie Jauss, Kimberly Drazen, Lucy Schene,
Nataleigh Scheller-Houska, Rachel Dodge,
Rob Eichelberger, Sarah Dubberke,
Sarah Page, Victor Landon
Ensemble Family
Anna Kuschel, Catherine Stanish, Delaney Roehrs,
Ella Blase, Emily Clements, Karen Dickey,
Lillian McMurry, Lillian Robinson, Lindsay Miller,
Melinda Call, Riona Stanish, Roman Ryker,
Rose Garland, Sofia Call
---
Orchestra (additional information will be provided at a later date)
Reeds:  Mary Wiley, Tim Kloeppel, Kelly Austermann
French Horn:  Mary Schmidt, Dan Schroeder
Trumpet: Joe Paule, Jr., Mark Senechal
Trombone:  David Bode, Tommy Schwartz
Percussion:  Anne Stevenson, Tom Appelbaum
Guitar and Banjo: Robert Hardcastle
Harp:  Michael Boone
Piano/Synthesizer:  Gregg Mueller
Violin:  Marilyn Humiston, Kyla Herbert, John Bourzikas
Cello:  Ann Geiler, Damen Martin
Bass:  Barbara Paule
---
Directors and Production Leadership Team
Director and Production Implementation:  Dianne Mueller
Choreographer:  Glenn Guillermo
Music Director and Rehearsal Accompanist:  Gregg Mueller
Vocal Coach: Kathy Eichelberger
Orchestra Conductor: Joe Paule
Lighting Design:  John Jauss
Costumers: Kevin Jones, Krysta Wenski
Set Design: Dianne Mueller
Stage Manager:  Lauren Kreienkamp
Assistant Stage Manager:  Mackenzie Bick
Properties Manager: Kimberly Clements
House Manager, Publicity, Program:  Lynette Jost
Offstage Cast Direction and Scripting:  Jennifer Kerner
Facility Manager:  Kathy Poppitz
CMP Business Manager, Sound Design & Mixing: Larry Jost
(additional information will be provided at a later date)
---
Production Staff and Crew
Set Build, Painting, and Art: Dianne Mueller, Debbie Brewer, Larry Jost, Rachel Mueller
Backdrop Art:  Rebecca Mueller, Dianne Mueller
Sound Board Technicians:  Bob Bentrup, Bill Orrick, Kevin Wilkinson
Backstage Technical Support: Donna Wilkinson, Terrie Bick
Lighting Operators: Kara Grimm-Denholm, Kevin Dickey
Stage Crew: Chris Gubser, Joe Harwell, Bella Cloeter, Benjamin Clements
Properties Crew: Jennifer Rocha, Katelyn Ericson, Cheri Miller, Betty Rowold, Laurie Shelton
House Technical Support:
Program Printing: Ruth Hertlein
Closed Circuit Video Operation:
Refreshments: Tammy Herzog, Debbie Brewer
Opening Night Reception: Melissa Bohlmanm, Margie Heimrich
Stage Build Out: Lauren Kreienkamp, Dianne Mueller, Lynette Jost, Larry Jost
Event Photography:
(additional information will be provided at a later date)
---
---
Download a Poster
---
MEET ME IN ST. LOUIS
Songs by Hugh Martin & Ralph Blane Book by  Hugh Wheeler
Based on "The Kensington Stories" by Sally Benson
and the MGM motion picture "Meet Me In St. Louis"
Songs by Martin & Blane published by EMI Feist Catalog, Inc.
Produced for the Broadway stage by
Brickhill-Burke Productions, Christopher Seabrooke and EPI Products™
MEET ME IN ST. LOUIS is presented by arrangement with TAMS-WITMARK MUSIC LIBRARY, INC. 560 Lexington Avenue, New York, New York 10022
---
  Receive CMP News

Join our mailing list to stay updated on all of our performances!
SIGN UP
---
 Advertise or give a Shout Out in the Meet Me In St Louis Program

Our program provides a great opportunity to advertise your business to the 2,000 or so attendees of this show.  
You can also congratulate or give a shout out to cast members with our one-line message option.
Simply click the button below for additional information and a submission for.
Advertising Form
---
 Be a CMP Patron

We always appreciate our Patrons for their financial support.  Other benefits are also provided.  Simply click the button below to learn more.
Patron Form
---
  About CMP
Learn more about CMP and our ministry.
LEARN MORE
---
  Performance
History & Awards
Take a look at what we've done, and where we've excelled.
VIEW HISTORY & AWARDS
---
---
  Contact Us

SEND AN EMAIL