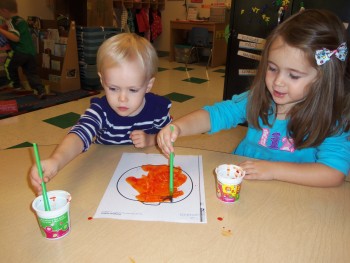 Christ Memorial Child Care Center is a ministry of Christ Memorial Lutheran Church that provides an opportunity for all children to be loved, nurtured, and cared for as God loves, nurtures, and cares for us.
At Christ Memorial Child Care, we believe that children are unique creations of God with individual patterns of growth which affect their development, and that children have a natural desire to learn.  We are privileged to foster this desire to learn by providing a warm, safe, and caring environment for your child. It is our responsibility to encourage children's spiritual, emotional, social, physical, intellectual and creative development.  We also believe young children's play experiences provide an important vehicle for learning.  Through play, children are actively engaged in their learning, develop their creativity and language skills, and move from concrete to abstract thinking.  Our activities and environment are geared to meet the needs and interests of the individual child.
A number of full time and part time options are available for children 8 weeks to 5 years old, and we welcome children ages 5-9 into our summer camp. We invite you to learn more about Christ Memorial Child Care Center by visiting the program's website.