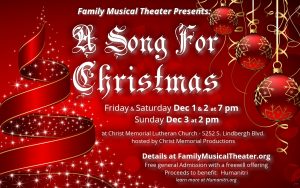 Christ Memorial Productions is excited to Host Family Musical Theater's presentation of A Song for Christmas Dec 1, 2, 3 2017. 
The Saturday December 2 performance will include a free reception beginning at 6:30 pm and continuing through intermission. Refreshments will be served and will include soft drinks, wine, beer and hors d'oeuvres.
Family Musical Theater is preparing over 30 Christmas selections in this Sixth Annual event!  A live orchestra and talented singers from around the area are sure to delight.
The talent includes many vocalists who have participated in CMP productions through the past several years, including Nicky Collett, Gabby Collett, Heather Matthews, Bethany Hamilton, Dianne Mueller, Rachel Mueller, Emily Clements, Nikki Newcomb, Kira Newcomb, Quincy Newcomb, Keith Poppitz, John Jauss, Katie Jauss,  and Katie Nestor Klein as well as musicians Marilyn Humiston,  Dragmir Page, Mary Schmidt, Gregg Mueller, and Kevin Jones.
For details see the Family Musical Theater web site.  Please share the Facebook Eventwith your friends.
Admission is free with a freewill offering to cover expenses and to support the work of Humanitri.  Humanitri works in the St. Louis area to fight homelessness and equip people to rebuild their lives.  For more information on Humanitri, please see Humanitri.org.
If you are bringing a group of 15 or more individuals to the event, please email Tickets@CMPShows.org with your group information so that we can be ready to accommodate you.
You may also help Humanitri reach into our community by donating household productsfor their clients.  You may bring them to the show and we will ensure they are delivered!  Here is their most critical needs list:
Pot\pan sets
Dishware
Utensils
Towels
Bedding (twin and full)
Paper towels, bathroom tissue
Cleaning supplies
Anything for a home!