AUGUST 16 11:30 am
UPDATED REHEARSAL SCHEDULE  AUGUST 16
NOTEs:
Sunday is on the RIGHT in this calendar.

Page 6 of your script has the list of songs and participants.

Sunday Rehearsals are from 1:30 – 4:30 pm and weekday rehearsals are 7-10 pm unless otherwise noted.

Now that school is in session, until tech week we plan to release students by 9 pm….except Teen Dance Ensemble …
Click here for the current REHEARSAL SCHEDULE in PDF (August 16 version).  
 If you ever see your name missing from a song or scene you are in..it's probably because we missed it…so please do know which songs and scenes you are in and holler if something looks wrong in the schedule.
In the Aug 16 update, the schedule for Thursday, Aug 17 was updated to show that the Teen Dance Ensemble is not called until 7:30 pm.
Click here for a copy of the JPG version of the rehearsal calendar.
REMEMBER….unless specified otherwise, if you are in a scene being blocked, you are called … and if you are in a song being sung … you are called…
AUGUST 9 1 pm
OPENING NIGHT Reception Tickets 
Following the 9/15 performance we will have a reception that you, your family and friends are invited to attend.  The reception will include a selection of foods (including some to match the theme of the show). soft drinks, wine and beer.  The cost will be free to those under 21 and $5 per person for those over 21.  For cast and crew there will be a max cost of $10 per family.  We hope that everyone plans to attend!  Please SEE LARRY or LYNETTE Jost at rehearsals to get your tickets.
AUGUST 8 9 am
ADS and MESSAGES in The Program – collecting them now
We would love to advertise your business or post a shout out to the cast in our Meet Me In St Louis program.  The program generally reaches over 2,000 attendees through the run of the show and is a low cost way to promote your business or encourage cast members!  Ad costs range from $25 for black and white business card sized ads up to $200 for full page color ads.  
We print short messages in the program….where you can encourage cast … with a message like "Way to go Joey".  These cost $5 per line.
Here is a link to the form.  Feel encouraged to also share it with your favorite local businesses and family members!  These are due by 9/1.
AUGUST 8 9 am
UPDATE ON Pre-Show and Intermission BY JEN KERNER
Jen has provided an updated schedule and assignment list for the pre-show and intermission work in the commons.  PLEASE CLICK HERE for the latest.
AUGUST 3 11:25 am
SATURDAY AUGUST 19 BBQ PLUS+ TO BENEFIT CMP – HELP WANTED
Christ Memorial Men's Club is hosting a BBQ to benefit Christ Memorial Productions.  We get to provide people to help setting up, cleaning up, and plate food (no cooking duty).  It is a lot of fun and even the younger cast can help.  Generally, we need 3-5 people per shift…but can use more to make it more fun and social.  In addition, Thrivent Financial is sponsoring electronics recycling and paper shredding…and there's an overlapping car wash…and a bake sale.  We only need help with the BBQ…but there's lots more going on!  See the full schedule below.
You can also help by coming to the BBQ and inviting friends and family.  
Here is the link to the Facebook Event that you can share.
Please email or message Larry to volunteer (CMP@CMPShows.org).  I will try to keep the list of volunteers shown here close to up to date so you can see how things are going.  You may also "sign up" by commenting on the Cast and Crew Facebook page post about this same topic.
VOLUNTEER SHIFTS, roles, and minimum number of volunteers needed:
TBD as needed:   Larry Jost, Lynette Jost, Bruce Roberts; Keith Poppitz after 2 pm
All day:  Bob Bentrup
7am-9am (setup, 4 people needed):
Sylvia Ryker, Tony Jaskiewicz
9am-11am (setup, 3 people needed):
Eric Maupin, Gabriel Maupin, Rachel Dodge, Greg Bick
11am – 1pm (food service, 5 people needed):
Karen Dickey, Rose Garland, Sylvia Ryker, Roman Ryker, Robert Jones, Bill Orrick for a while
1pm – 3pm (food service, 3 people needed):
Sarah Dubberke, Jennifer Kerner, Holly Adams, Elena Adams
3pm – 5pm (food service, 3 people needed):
Lindsay Miller, Cheri Miller, Grace Wilkinson, Rich Goolsby
5pm – 7pm (food service and clean up, 5 people needed):
Tammy Herzog avail after bake sale, a Crandall family member
The schedule for the day is:
11 am – 6 pm BBQ by Men's Club to support Christ Memorial Productions
11 am – 6 pm Bake Sale to support the Christ Memorial Library
10 am – 4 pm Car Wash to benefit "Operation Wallacea Cuba Team"
11 am – 2 pm free Paper Shredding sponsored byThrivent Financial
11 am – 2 pm Electronics recycling – non-screen or small screen free, charges may apply for large TVs and screens sponsored by Thrivent Financial
BBQ items being sold will be: Pulled Pork, Hot Dogs, Chicken, Pork Steaks, Bratwurst, Baby Back Pork Ribs, Baked Beans, Slaw, Potato Salad
JULY 25  11 am
Biographies due  Aug 15 
Please provide a biography for the program, use these handy samples (pdf)  as a template.    We need every cast member to provide one, along with directors and production leadership team members.  Please email yours to Tickets@CMPShows.org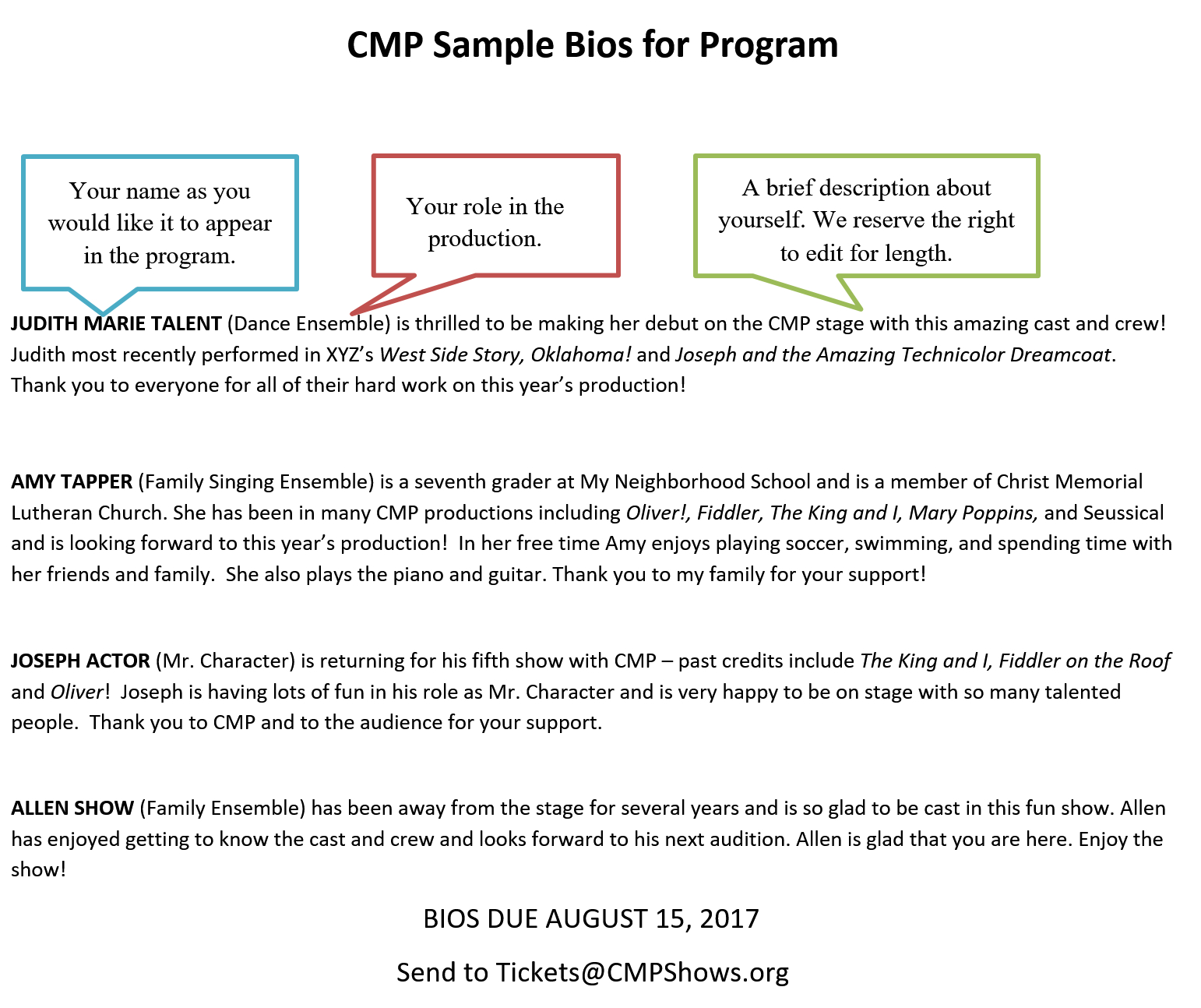 Click here for a jpg of the sample bios.
JULY 18 9 AM and earlier
Costume Information
A note from Kevin Jones on costumes… for women we would like flesh colored tights/hose, and tan/heel character shoes. Young girls will need white tights for under their costumes.  Click here for a copy of the handout from the July 17 rehearsal for your reference.  Women/girls are to make their own hats to go with their outfits. Guys we will be provided with hats (unless they have something on their own).
JULY 18 9 AM
Cast and Crew General Information and Guidelines
A Click here for a copy of the handout from the July 17 rehearsal for your reference. 
IF YOU NEED ANYTHING

please post to the Facebook page or send an email to CMP@CMPShows.org.  If you have an urgent matter or are running late to a rehearsal or anything requiring immediate attention, please text or call Larry Jost at 314-223-3162.  We are always here to help!
FACEBOOK PAGE – You should have received an invitation to join the Cast and Crew Private Facebook page.  If you use Facebook, this is a convenient way to share items together.  Here is  the LINK.  If you need to get re-invited, please let us know.  CMP@CMPShows.org
CMP General Web Site for Tickets and the General Public:  CMPShows.org 
FACEBOOK BANNER IMAGE –  If you are looking for a Facebook banner for the show, please use this image.