A Note from Kimberly Clements Sept 22
Hello Cast & Crews & Orchestra – if you haven't noticed yet, there is an ornament on the Christmas tree with your name on it!  Please come and get it before you leave on Sunday.    Thank you for a fabulous show & have yourself a Merry Little Christmas!!!
A PARTY Note from Gregg and Dianne Mueller  posted Sept 13
Since this is coming up quickly, I wanted to announce that Dianne and I would like to have a cast/crew/everyone party at our house on the evening of the second weekend Friday performance – September 22nd. We are probably 10-12 minutes from the church at 756 Reed Ave, 63125.
We have very understanding neighbors!
BYOB, and something to share. All ages! All family! Everyone is welcome.
If there is bad weather it will be very crowded (still come!), otherwise we have a pretty nice deck and patio area.
A Note from Lisa Grove Sept 19
Hey everyone!!! My parents are so excited about the show they would LOVE to have everyone over after Saturday's performance!! They live only 3 miles up Lindbergh from CMP right behind Helen Fitzgeralds. BYOB as well as a snack/chip/dip etc or dessert to share!!! They have a lot of chairs but if you happen to remember to throw a lawn chair or two in your car before the show that would be great as well!! Can't wait!!!!!! 
🎉
🎉
🎉
🎉
🎉
🎉
🎉
🎉
Cast Party at "Rose's" ( Lisa's) 
Saturday September 23
After the show!!
8654 Otto Westway, 
St. Louis, MO 63127
Text me if you need to! 314-435-4679
Cast & Crew and Orchestra Photos
The Cast & Crew and Orchestra photos are now available online and printed copies are available at the performances for you as a gift.  CLICK HERE for the photos.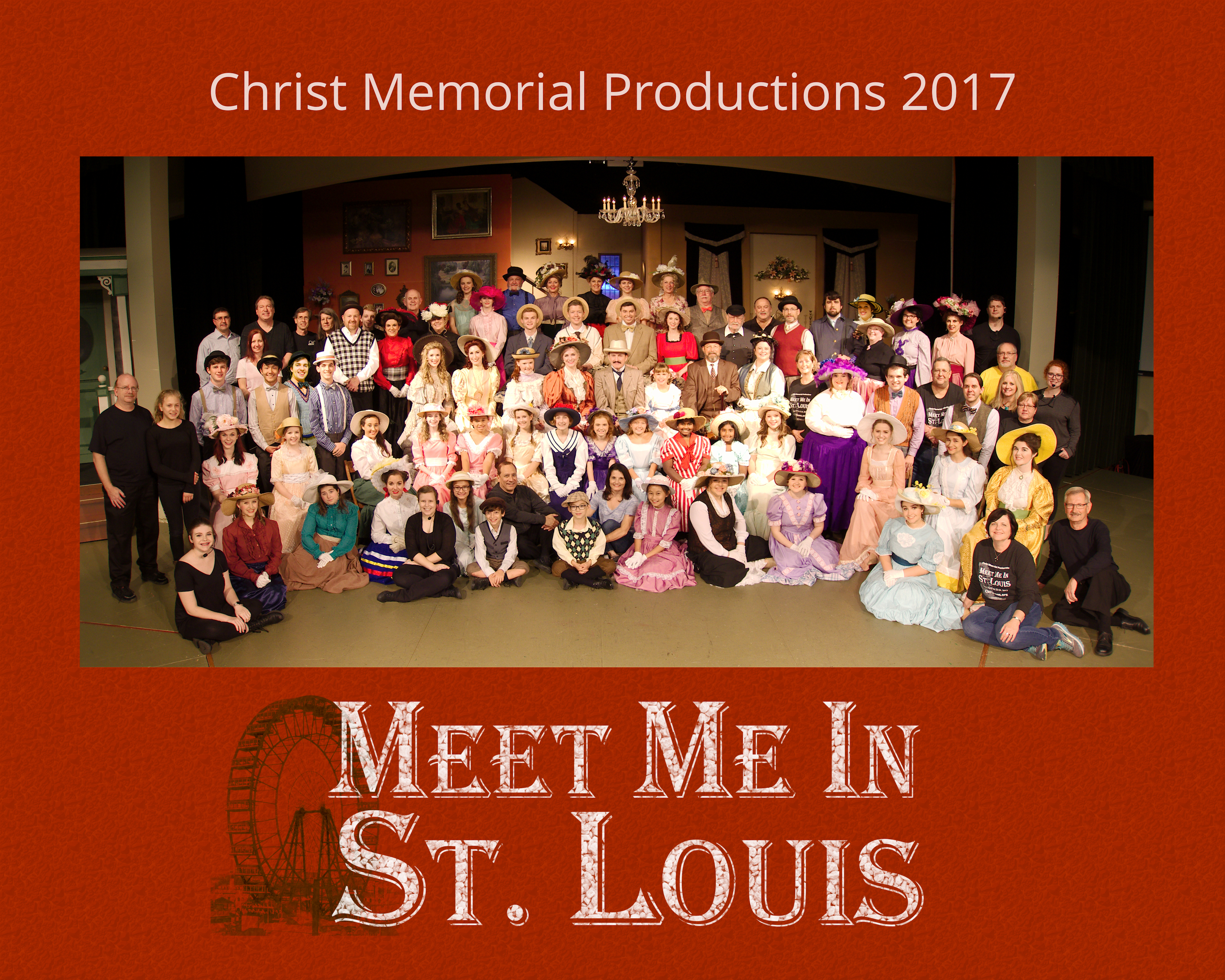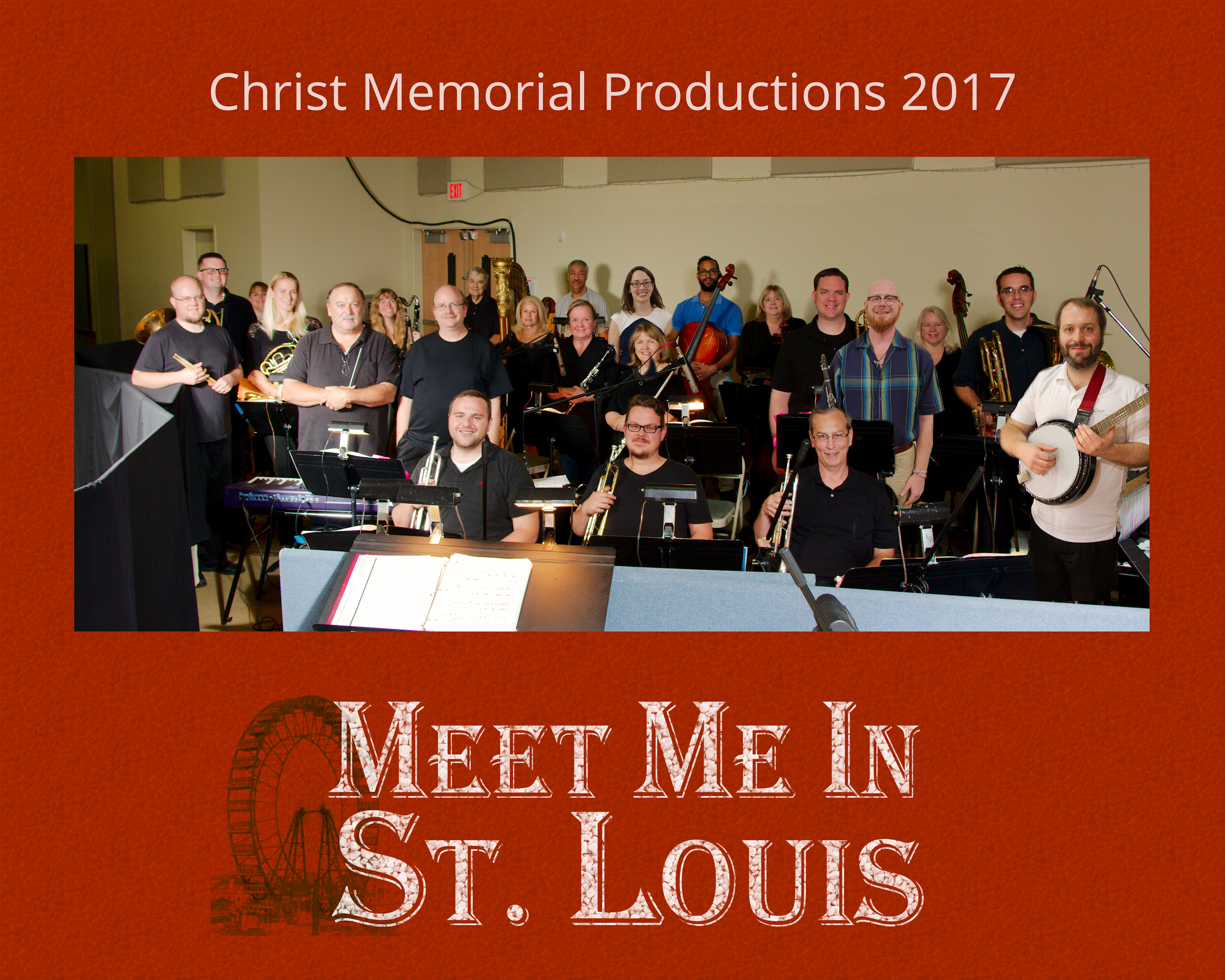 Performance Photos
Mark Amen has provided almost 700 photos, mostly from Thursday, of cast, crew, orchestra, and even offstage material.  You may use these without charge.  Enjoy!!!  Here is THE LINK.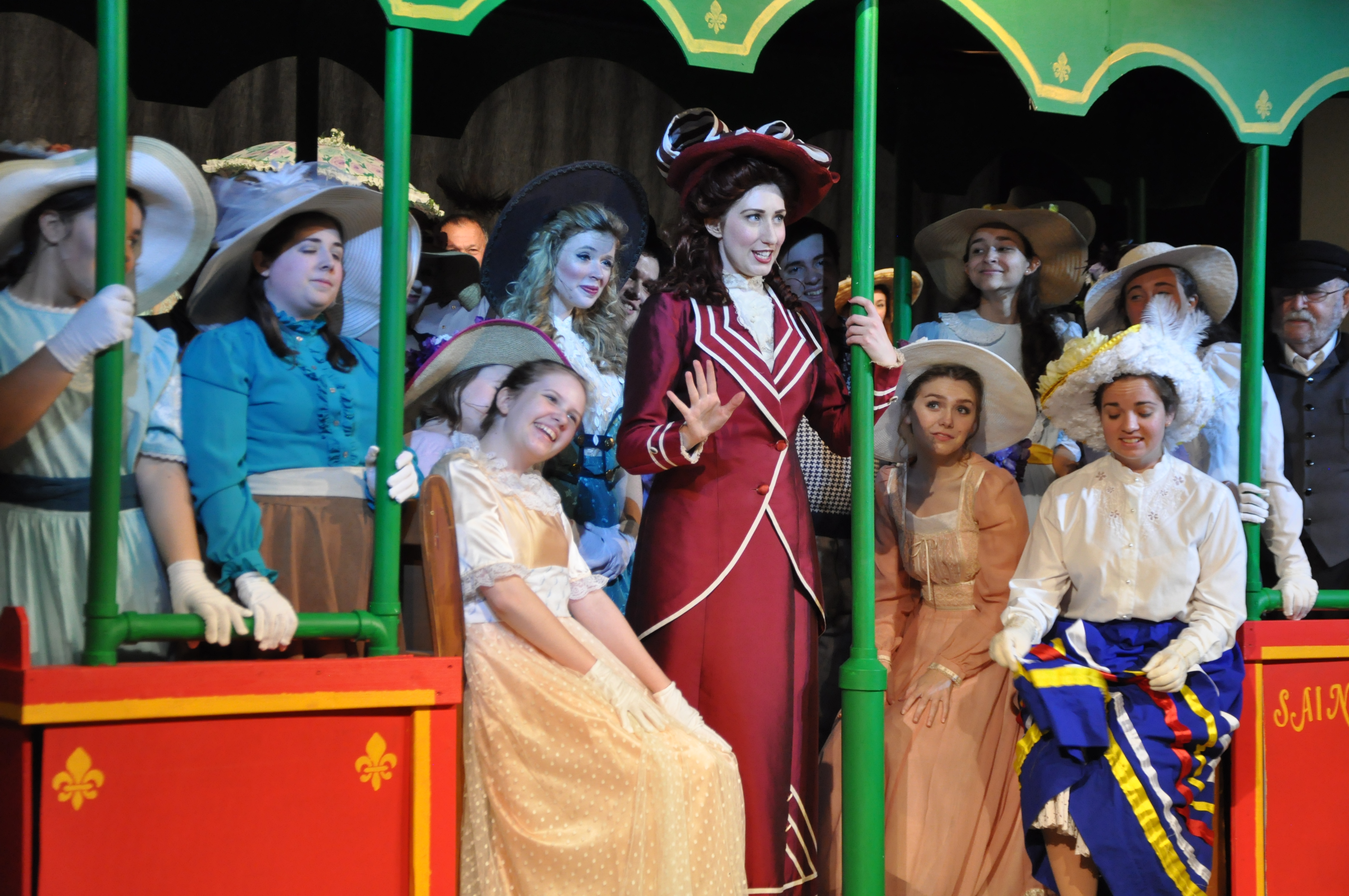 Sept 9 Note About Tech Week and Call Times, etc.-revised 9/14
Some guidance on tech week and performances below:
No access to Daycare area until 6 pm unless specifically told otherwise
No Peanuts in rooms backstage – allergy issues for the Daycare.
We are going to have the back door entrance to the church building and hopefully also the daycare entrance open pre-shows to allow some cast and crew and orchestra to park in back and leave more parking room for attendees in the front of the building. Specific times and details are in work.
Tech Week Monday through Wednesday we run at 7, Thursday we will run like a show at 7:30 with cast/crew/orchestra photos between 7:15 and 7:25…we have to make it fast and it will be challenging. It is helpful to have everyone in costume and ready and in the room.
For Performance days:
Entry doors and ticket pickup officially open at 6:00/1:00
• Call Time: 6:30/1:30…but if you have a mic, you may start getting the mic at 6:00/1:00 because…
• Mic Checks should be done 6:45/1:45 and are needed on-stage for every person with a mic after initial costumes are on you…so we can check for damage one last time 
• Mic placement is assisted by our sound team, we need consistency because variations make a huge difference in sound. We understand that individuals have preferred tape and such to use and that is fine, but we would like to inspect the placement and positioning for quality control.
• Dressing rooms will be labeled and identified. People under age 18 must change in rooms designated for the, age 18+ in their designated areas.
• Quick-change locations will be identified for you.
• People changing back stage must always have acceptable clothing on them under whatever you are changing out from.
• House Opens 7:00/2:00
• Vocal Warmups at 7:00/2:00 (except offstage pre-show singers who need to follow Jen's instruction)
• Everyone meet in the Green Room at 7:20 promptly for pre-show briefing and group prayer.
• During the show, you can watch the show on the TV in the Green Room and will have sound piped in for you.
• Act/Scene lists will be posted. Know when you need to next be on stage and be ready in advance.
• Family groups and buddies can work together to keep punctual.
• If you have down time backstage, bring something to work on. It must remain quiet back stage for people to be mentally ready and because of the risk of live mics.
• Offstage Pre-Show acting will take place 6:45-7:15/1:45-2:15, so plan to be costumed and sound checked by around 6:30/1:30.
A Dinner at Church  and Striking of the Set  posted Sept 13
After the final performance, we have a free dinner for cast, crew, orchestra, families, parents of the kiddos, etc. at church in the commons…and we strike set…so plan on hanging around for some fun and some work, too.   
FACEBOOK BANNER IMAGE –  If you are looking for a Facebook banner for the show, please use this image.

FACEBOOK PAGE – You should have received an invitation to join the Cast and Crew Private Facebook page.  If you use Facebook, this is a convenient way to share items together.  Here is  the LINK.  If you need to get re-invited, please let us know.  CMP@CMPShows.org
CMP General Web Site for Tickets and the General Public:  CMPShows.org 
Sept 4 10 pm
UPDATED REHEARSAL SCHEDULE  September 4
NOTEs:
Sunday is on the RIGHT in this calendar.

Page 6 of your script has the list of songs and participants.

Sunday Rehearsals are from 1:30 – 4:30 pm and weekday rehearsals are 7-10 pm unless otherwise noted.

Now that school is in session, until tech week we plan to release students by 9 pm….except Teen Dance Ensemble …
Click here for the current REHEARSAL SCHEDULE in PDF (September 4 version).  
In the September 4 update, reduced and clarified the Pre-Show needs for Wednesday, Sept 6.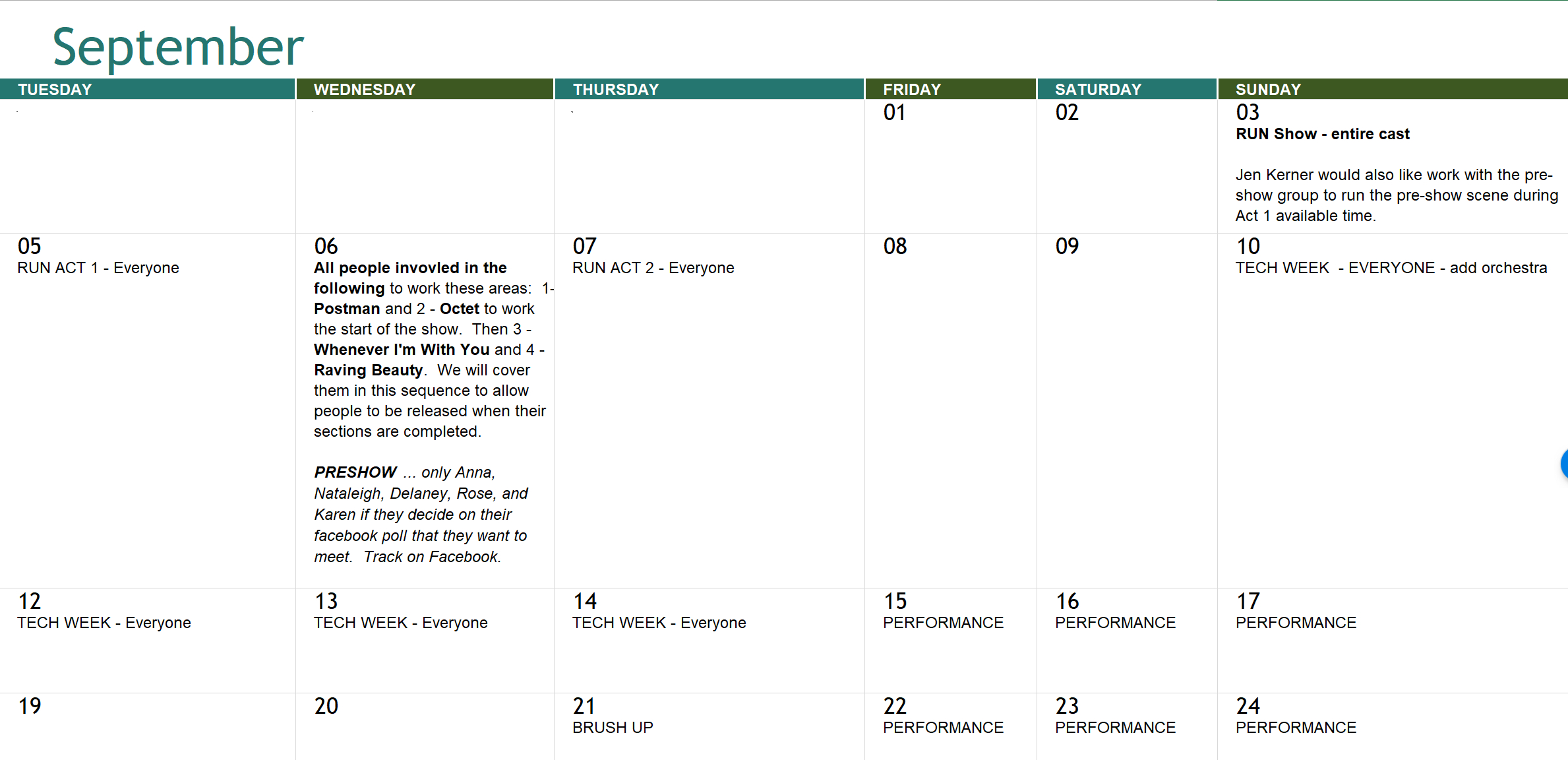 Click here for a copy of the JPG version of the rehearsal calendar.
REMEMBER….unless specified otherwise, if you are in a scene being blocked, you are called … and if you are in a song being sung … you are called…
A Note from Karen Dickey Sept 14
To all cast and crew:
Hi everyone, I would like everyone to sign the mattes that we will be framing along with the posters for the Directors and Production Leadership Team. Starting this Thursday, there will be two tables set up in the room next to the Green Room where the microphones are located. I will have the mattes on the tables every night this weekend so please sign them as soon as possible when you have a free minute. Here are a few things to keep in mind:
Please make sure your hands are clean before signing so we don't have dirt or smudges on them.
Do not sign really big so that we have room for everyone to sign.
Please sign as neatly and clearly as you can so that it looks nice.
Do not sign too closely to the outer edge since the frame will cover part of the matte.
Only use the markers provided. Do not use pens or other different colored markers.
Only sign on the matte. Do not sign on the poster.
Parents, please go over these guidelines with your children.
If you have any questions or concerns, please don't hesitate to ask me (Karen Dickey). Thanks!
A Note from Dianne Mueller Sept 19
Hello everyone!! I hope everyone is having a great break and have had a chance to rest up. As you have seen in the pictures, the show looks great. It sounds great! You are doing an amazing job! I am getting excited as we get closer to the 2nd weekend.
Just a reminder. We do have a brush up this Thursday. We will promptly start at 7:00pm. We plan to Mic everyone so please get there and get your mics so that we are ready to start at 7:00pm. 
We will be sitting in the Worship Center and we will not be doing costumes. (if you want to do your quick changed that would be fine.)
I would like to get this done quickly so I would appreciate no goofing around for this brush up, there are a lot of moving parts so it would be best if we just run the show and do it without the silliness that sometimes happens at brush ups. thanks and see you all on Thursday.
A Note from Krysta Wenski  posted Sept 15 
Hello! 
I just realized that none of the women in the ballroom scene do not have any accessories, if you could bring in bejeweled hair accessories, and maybe some necklaces too!!! This would be great! I'll try to come up with something too. Thank you!
A Note from Lynette Jost posted Sept 15 
What a beautiful show! Well done all! We have pre-sold over 350 tickets for opening night. We can accommodate about 420 at each performance. There are still great seats available, especially for the Saturday performances. 
Thank you for all of your hard work!
Dressing Rooms Note from Kathy Poppitz
Some housekeeping items for now till Friday.
Wednesday – All Dressing rooms just cleaned up and put to the side. You're doing a great job keep up the good work.

Thursday – All Dressing rooms just cleaned up and put to the side.
*** Special note – Women and girls there is a meeting in the room directly across from your dressing room so be careful about keeping the doors closed.
Friday – All Dressing rooms just cleaned up and put to the side.
We need to setup for Saturday Service so any amount of help you could lend would be appreciated. Ask Larry or Dianne how you can help.
If I can help in any why just ask.
You know your lines and have learned all your dances let's make tonight a great dress rehearsal.
Sept 14 Rehearsal Notes from Dianne Mueller posted Sept 15 
Great Job everyone.  Next time an audience.
Only a couple of things.
ALL CAST
NO lip Gloss.
BOWS
I want to run bows before the doors open, after warmups.  Please be ready by 6:50. (A couple of notes about them.)
We will be having a black out next time. Heads up on that.
Let's slow them down. If we aren't finished before we start singing Meet Me In St Louis.  That is okay, it is better to have clean, un-chaotic bows than to try to get then done before that song.  And give them time to acknowledge the orchestra and tech.
I want to hide the smaller lines better. When the lines bow and split to the side I don't want you to go all the way back. Leave room behind you, this should allow the following people to go behind the groups that have already bowed and be hidden.
After the Motorman, postman, Eve and Lucille, bow,  the rest of the lines need to split and hide behind the groups on the sides.  Then for the remaining bows come out  from each side meet in the middle, go to the front and bow.  For LON, Agnes and TOOTIE, Girls come from one side Lon from the other, and Lon go between them and walk forward.
COUPLE DANCERS
FOR BOWS….Turn in, dip (left foot up) turn out and go. (Do not bow again)
Okay that is it.  See you all tomorrow!!
A PARTY Note from Sarah Dubberke posted Sept 8
Hi ALL Cast and Crew and Friends-
Please join us after the show on Saturday the 16th for a CAST PARTY at my house. I live 15 minutes from the CMLC building at 6926 Virginia Ave St Louis MO 63111. Please BYOB and bring a snack to share (I will have plenty of starters so come ready to snack!).
Directions from CMLC building: Take Lindbergh to 55 North. Exit on Loughborough (about 5 miles up 55). Right on Loughborough then right on Virginia (in 3 blocks). My house is on the left on the next corner.
It will be soooo much fun! Please don't miss it!!!
A Note from Kevin Jones  posted Sept 15 
Happy opening night everyone! Show gets better each night. Can't wait to see it with an audience.
Only one note from last night:
There were women/girls on stage without last night. Anytime you are 'outside', please make sure you have them on.
Women dancers, take of your gloves when you get to Lons party… Gloves must be worn during the waltz
Thanks for making the costumes look great, and break a leg!!
Rehearsal Notes from Dianne Mueller for  the Sept 13 Rehearsal
The show looks great.  Thank you all for all your hard work.  So one more rehearsal!!!  Thanks for being ready on time last night.
FULL CAST
We will be doing vocal warmups in the Green Room at 7 tonight, doing the cast photo 7:20 promptly, and running tonight at 7:30 and we will also have a full 15 minute intermission.  Note:  Please do not clap during bows, and also return mics and change out of costumes  before greeting guests after the performances.
There are only a couple of notes.
TOOTIE/AGNES
when you leave stage thanks Agnes for helping Tootie get dolls, Tootie, just let Agnes get the ones on the steps,  don't go up to the steps go behind the couch like you did then  call Agnes over  to you with your arm as if you want her to follow you and then exit SR into the wings together.
WARREN
Your scenes are getting better.  Work on the first part the one step during "I told you I would make it in time for Lons party.  You were too far Center, then when you cross towards the SR side of porch work on not up staging yourself.  You turned in instead of out.  If you would like me to show you that cross again I would be happy too.  Thanks for all your work.
TEEN DANCERS
When you enter the stage after the house has been moved that looks good, however by the time you have settled you are in two large clumps SR and SL.  I would like it more spread out like how you are for before Banjo.  For example some of you on the couch some sitting on the floor.  I am pretty sure I had created crosses as well, but I didn't see then unless they were during the time you were coming down to sit, which as I said did look good.  I believe Glenn will be talking to you about it tonight too.  Please spread out and make micro clumps. 
LON and JOHN,
Nice crossing down stage and talking as they dancers get settled, however, I do think you can start your dialog a little sooner.  I don't think you need to wait for the music to end.  Let's try that tonight and see how it works, 
ALL CAST
The First Noel, Do not leave the room before you have finished singing and when you go to the hall, do not start talking…there are mics on and we can hear all of you with or without a mic
ENDING CHANGE
For all those involved in costume changing and helping out for the second to the last scene, Katie will be saying her line from back stage, as soon as her line is spoke, Grandpa and Tootie can exit the house and start the song.  Do not wait for Katie,   Also do not enter from behind the scrim, just go in front of it , it should be dark enough. 
A Note from Jen Kerner Sept 14
 PRESHOW – I love how it's come together, and the audience will love what you're adding to the show experience. Thank you all for the thought and energy you've put into the "show before the show!" – SINGERS, we will be moving our spot a bit, so as not to drown out the group in the cafe/seating area. – FINAL DRESS AND SHOW TIMELINES: Please be stage-ready and mic-checked by 6:30 (1:30 Sundays) so we can do a quick vocal warmup with Kathy. Go time in the commons is 6:45 (1:45 Sundays), with whoever is ready. That's the same routine we'll follow for shows. If arriving late is unavoidable, get ready and to the commons quick as you can. ROBERT AND RICH, if you can start rounding us up a couple minutes before 7:15 (1:15 Sundays) and bring the other cast members to the singers.
A Note from Kevin Jones Sept 14
I finally got to sit out front and watch the show last night, and WOW you are all doing a great job! The show looks and sounds beautiful. I know period costumes are uncomfortable, heavy, long and no fun, but know it looks wonderful. I just ask that you remember all of the costumes came from somewhere (CMP, The Rep, KC Costume, tux shop, personal closets), so PLEASE treat them kindly. We want to return them in better shape then we received them in!
The only note I had from last night was: HATS / GLOVES
Women/girls – make sure you wear hats and gloves anytime you are outside, and gloves at the ball
Men/boys – make sure you wear hats anytime you are outside
This is going to be a fun and beautiful show for the audiences. You should all be very proud of yourselves!!!
Thursday and Cast +   Photo
About the schedule tonight … and my apologies about the cast photo info not being  clearly in the general schedule..it was in the intro paragraph, plan is to do vocal warmups 7:00-7:10 with Lisa leading..same as on performance days (2:00-2:10 Sundays). Today, Thursday, we will follow that with the cast/crew, etc. photo (on performance days we will meet in the green room at this slot). Since pre-show is also running in the commons, it should be between 7:15 and 7:20 that we get to this, but let's start organizing on stage today right away after warmups. All mics checked before warmups , costumes on and then ready to run right after the photo is taken.
NOTES from JEN KERNER about OFFSTAGE Team Plans SEPT 13
Hello preshow folks! Just a reminder of the plan for the next couple days.
Tonight (Wednesday) we will do an abbreviated dry run of preshow at 6:30. Those of us who are miked will need to get mics early, so as to get checked, in costume and stage-ready by 6:30. (I know of one person who is unavailable for preshow tonight – anyone else, please let me know – I plan on starting preshow run at 6:30 with whoever we have.) We will go for 20 minutes, sing the chorus of "Meet Me In St. Louis" together and then be backstage at 6:50 for the 7:00 run time.
THURSDAY will be as close to the real thing as we can get! Vocal warmup for preshow people at 6:30, per Kathy. Preshow run, fully costumed and miked/checked, will begin at 6:45 with whoever we have, end with the MMISL chorus sing-along at just before 7:15 and then we'll go directly to cast photo (as on performance nights we'll go straight to the green room at that time).
Those of you who will have refreshments at intermission (Rose, Karen, Lindsay), I will need to connect you with Lynette and with Tammy Herzog.
…and don't worry, intermission people who are also at the Christmas ball, there's adequate time after intermission to change into ball clothes! 😊
REHEARSAL NOTES from DIANNE MULLER about the SEPT 12 Rehearsal
Really great job tonight.  The show is looking great.  The dressing rooms look fantastic.  Thanks so much everyone!!
ALL CAST:
We really need to begin the rehearsal at 7:00, you cannot be arriving at 7:00.  Please make sure you are ready to start the run by 7:00. I have been waiting the last 2 days for stragglers, tomorrow I will not.  We will start with or without you.  I know that getting mics and getting costumes can take time that is why I have been lenient the last 2 days, we should all know now how long it takes now.
Scene change music…Meet me in St Louis.  The Tempo at the end is different at the end.  We added the words that were not in the music to begin with.  Kathy, I would like the cast to go over this during your warm up time?  Gregg is going to come back and play it with you please let him know when would be a good time to do that.
TEEN DANCERS
When you are coming down stage to mingle and talk to each other not loudly but be animated.
When you ask Lon "What dance" and He says the Banjo, you need to ad lib more, some of you should say, "Oh" Some say "What is that" some say "Never heard of it" Some of you say "The Banjo? Have you heard of that?"  and so on, come up with stuff.
LON JOHN
Come down stage right away when the scene starts as the dancers are coming down and start the dialog sooner.  You can do this while the dancers are getting to their places.  Waiting until everyone is seated is dragging the beginning of the scene.
LIBBY
Do not grab your own chair, a girl would not do that.  Ask Gabe to get you a chair.
WARREN
You need to get to Rose right away after Banjo, don't wait for her to start that line, you should be right there when she starts her line and interrupt her.
SMITH FAMILY
After Katie says "Meat anyone" Katie is the ONLY one who sings "Meet me in St. Louie, Louie, meet me at the fair. "The family comes in with the rest of the chorus. "Don't tell me …"
STAGE CREW
House was not plugged in for Halloween scene.
GRANDPA
I like it when you bring your plate upstairs, don't put it on the side table.
DELANEY
I could see you when you set your props before Waltz scene, you either need to set it during a black out or don't set it until the backdrop is pulled.  If you can see the chairs in the audience they can see you. 😊
LON
Bags…?
MR SMITH
You left your coat on Chair after Halloween scene.
JOHN
Come Down Stage more when you say the line "No my Tux …."  The lighting is better, where you are not there are shadows on your faces.
ESTHER, ROSE STAGE CREW.
Who puts away the cross stitch and knitting?
WALTZ SCENE
Everyone should clap for the orchestra when the waltz is over. This is what they would do and this fills up dead time and allow for the people to get in place for the dialog.   Music was live back then and the party goers would clap at the end of songs.
JOHN ESTHER
in the engagement scene, John on the line "Esther you are the most…you are…"  When you  start to laugh, I would like you to pick up Esther and swing her around in a circle and put her back down and then hold her out from you and say "I still can't' believe it."   Keep hold her like that and still looking at her start to sing "When we met" then start to turn out and do the regular blocking as before.
TOOTIE, Turn the key on the music box about a half of a turn.  Do this also as you are walking around the couch.
MR SMITH
you should only have to turn the music box key once around.  Don't do more, it will not stop playing when closed and we can hear it during the scene.
ALL CAST
We will be doing Bows tomorrow.  I hope this will not take long.  If we focus it should not.
Thanks everyone!!
Notes from Kathy Eichelberger From the Sept 11 Rehearsal
Cast,
After the opening scene tonight I want to meet to go over the following items. ( see below).. Bring your books and your bodies to the green room to go over the following.
I have some individual notes for John Truitt, Mrs. Smith, Agnes and Esther, and Warren…. See me tonight briefly.
***On Thursday night and during shows, Lisa Hoover Grove will do warm-ups with the cast from 7:00- 7:10.  I will be busy singing in the Pre-show…… please meet in the green room for warm-ups at 7:00 on Thursday
 Skip to my Lou-
Bases on the first entrance after the girls sing ,"Flies in the Buttermilk"—
you are singing the tenor line and not the bass line…. Lets look at that
Only Esther says…. " SKIP"
Altos lets go over the ending of Skip to my Lou
BANJO-
Dancers when you come in on Banjo the words are , Banjo, dancing the Banjo.
After the dance break.. .everyone sings,
The Banjo…..doing the Banjo— people are forgetting to the word " THE"
Number 13- The Trolley Song
Everyone- When we all sing , The Day was Bright ( guys are in harmony). The words change to
The day was bright the air was sweet, the smell of honeysuckle swept her off her feet… she tired to sing but couldn't squeak, in fact she loved him so she couldn't even speak.
Reprise of Trolley-. The words are. The Day was bright the air was sweet the smell of honeysuckle swept me off my feet…. I tried to sing
Finale—. We sing,. So won't you…. Meet Me in St.louis, Louis, meet me at the Fair
Buzz, Buzz, buzz, went the buzzer, plop, plop plop went the wheels, Stop ( long note)  Stop went my heartstrings. ( this is different than the reprise)
THANK YOU,
The show is coming together nicely and will be fabulous!. J
Kathy
Notes from Dianne Mueller From the Sept 11 Rehearsal
Time for notes… First of all I want to say thanks for all your hard work, it is looking good, there are some snags we will work out.  Sooo just want to say first of all good run tonight.  I unfortunately have to I do have some house keeping things to say up front and some reminders and I am afraid a bit of scolding to do.
ALL CAST
The Men's dressing room looks fabulous, thanks men,  you win the prize for tonight.  Women your room looked good, but you just need to remember to push racks to the walls out of the way.  Girls dressing room….was a mess, This room needs to be picked up all your pieces and parts need to be put together and other makeup applicators, and face cleaners and hygiene things were left on the floor and various places, please clean up all the things.  Also, women and girls must not enter the boy's dressing room that used to be where costumes and hats etc. were…with all the file cabinets.
Also, no one changes behind the house except Rose and Esther, (and sometimes Lon)  do not remove costumes pieces or place costume pieces there.
Please note that there are to be no cell phones on stage.
Okay over all, it seems that, parts and pieces of costumes were found in various places, and a very heavy coat was put and left on the Trolley.  It was on it for the last scene and still on in tonight as we put things back together tonight.  Nothing should be placed on the Trolley, this coat was heavy enough to break the foam it was sitting on.,  I really don't want to have to repair costumes left on the ground and set pieces.
THERE SHOULD BE NOOOOO TALKING.  No talking in the wings at all, and if you cannot remain quiet back stage, then there will be no talking back there either.  It CAN BE HEARD, and I was told it was very loud.
ALSO NO STANDING IN WALK WAYS OR WINGS. There are a lot of things that need to be moved from place to place and times that the crew needs to run from one side to the other.  If they say move …MOVE, If they say to be quiet BE QUIET.  They are doing the grunt work to get this show to look and run great…. Show them respect and listen to them and thank them for doing a very thankless job.  If someone is telling you to be quiet (cast or crew) they are only doing it so the show is a success and so we all look good and have a good time doing it.    😊
Also …  Do not go into the wings until everything that needs to be staged and moved into place is done first.  There are large moving parts and we do not want anyone to get hurt.
NOW I am going into the details…The thing I hate about notes is that I focus on what needs to be fixed, there are so many wonderful things happening, and most of the time I am just watching and enjoying, but in order to tweak and make it even better we need to nit pick the details…
TOOTIE
When the postman gives you the package, I want you to take your time with it, look at it and I would like you to keep holding it in one hand and push the doll off with the other hand while you are holding the package, then take your time  putting  it down.  You are doing it too quickly and it is taking away from your awesome line "she's dead"
AGNES AND TOOTIE, when you take off your hats put them on the table in the back of the set by the mirror (the one on the wall on stage).  The table has a globe on it.
JOHN
Be a little more SL with Bat, you look like you are in their yard..:-)
TOTTIE
Don't forget after you talk to Papa about getting another job, sit down on the other side of the steps. This is to give Mr Smith, Esther and Mrs Smith more room so you are not sitting directly in front of them.
TOTTIE AND AGNES
When you go to the landing right before your start fighting, you need to be already having a disagreement that turns into the screaming.  At this point you are just standing there until Tootie screams.  Start tugging on the doll before Tootie screams. Just not enough to draw attention to you.
You also need to figure out how to sit with your dresses so that you can stand on the couch, practice this.
When you all leave after "Whenever I'm with you" Agnes and Tootie are not to go up the stairs, but exit SR into the wings.  Too many people trying to go up the stairs it looks weird.
TOOTIE
When Lon says, "Oh good, another funeral…." Look at him.
AGNES
you need to really punch Lon, do not be afraid.  I doubt you can hurt him. 😊
TOOTIE
Look out towards audience and towards Mr Smith, when you say "Yes Papa" when he asked if you knew about the phone call.
Mr. SMITH
In general you need to tighten up your lines more….except when you tell Rose she can get the phone add a little more of a pause.
KATIE
Can you take the vase of flowers off the fireplace after dinner scene.
MEET ME IN ST LOUIS STAGE CROSS BEFORE PARTY
We need to work on this.   Jauss family…when you enter the girls are supposed to be behind you and Roman is walking with you in front, once you get on stage the girls are supposed to run around you  as you walk.  Girls you should then get a little in front of the Parents and then stop you can start just talk and then maybe skip in a circle, occupy each other, play hand games….Melinda and John will then stop just SR to  and then the other couple will join them and you will start talking.  You were a little too center tonight, let get this more SR. Melinda, you should have a baby in your arms ( I don't remember if you did, in case you didn't this is a reminder) that will give you something to do with the other couple because they will want to see it. And so on. At that point  or at some point before the other couple joins you SR, VICTOR should enter from House Right run up to Roman who is still standing with his parents and take him to DSL and play with Baseball cards.  The couples will talk for a bit then start to exit slowing as you say goodbye.  I think the amount of time you used was good, I just want to make it more interesting. 😊
The Dance couples looked pretty good.    I will watch you closer tomorrow to see if I would like to add some stuff.
PARTY SCENE
Boys take off your hats.  They can be placed on the table by the mirror on SR or the small table by the bannister, they will need to use your hats later in the scene for the songs.
Girls help EVE to her seat someone.  You are all concerned but then you just leave her on the ground.  Someone close by her help her up and walk her back.
TOOTIE
During Bamboo song you did a great job of holding your hands up, however that was just practice for holding up your nightgown, so now that you have the gown you need to hold it up.
WARREN,
When Rose kisses you goodnight and you walk away, try to say those lines more confused, not so angry.
ESTHER
On Trolley song, do not rush your line, the orchestra will wait for you.  They are waiting for their cue to continue after you say "Baseball my foot"  You do not need to worry about running out of time.
HALLOWEEN SCENE
Agnes, try starting the scene without your jacket on, have it sitting on the couch.  Then while you have the break in your line after…"We won't"  and you have to wait for music to finish the line, You can be putting on your coat.  Also, I know I told you not to put the hat on until you leave, but you will need to put it on when you scare Katie, then you can take it off again and set it down where ever is convenient. Then just make sure you grab it again before you leave.
MRS SMITH
Counter Cross Grandpa as he comes in, he was blocking you completely at one point.  Don't remember where, but you were all CS.
ROSE,
Maybe you could have a book you are reading that you pick up to read again once the girls are gone.  Just a thought.  You could plop down on the couch start to read, and get pulled in slowing by Katie's talking.  There are lots of books on the piano.
TOOTIE
I can still see you in the wings before you scream. Maybe stand right next to the DS curtain or behind the other one.
AGNES
Try crossing to couch and sit after you say "Oh Rose you're so stuck up"
Also stand up on the line "Tell us Tell us" before that line you should be sitting in chair, stand up on the line then when Mrs Smith says "Oh is that all , I think we can manage…"  turn and sit on the couch (SL side of couch) also be more excited about packing.
JOHN
More DS when you say Tux at the tailors.  The lighting is much better there.
JOHN ESTHER
Engagement scene, foreheads together  through "Just think two more days…"  Then look at each other " you'd have been gone"  I already talked to you about the  kiss JOHN.  😊
TOOTIE ETHER ( I would like to go over this with you both)
Right after "have yourself.."  Tootie, I need to see you struggling to get away from Esther before you get off the couch, Esther hold on to her so she has to struggle.  Tootie you struggle then stumble to the CS spot as you cry and deliver your line.  The rest was great.  Just keep holding her Esther so that she has to struggle to get where she is trying to go. 😊
ALL CAST
You must all be singing on the First Noel….The mics are on everywhere to pick you up.  We heard talking and conversations.  Oooooops.
So that is all I have, thanks again for a great rehearsal and if you have questions just ask me.
Sept 9 Note About Offstage Work from Jen Kerner
**Preshow Update**
With Wednesday night's run of the show starting at 7:00, I would like as many preshow cast as possible miked up and ready to go for an abbreviated run in the lobby at 6:30. We'll do the preshow thing for 20 minutes, run through a chorus of "Meet Me In St. Louis" at 6:50 and head on back to get in place for the show.
Thursday night – full run of preshow, from 6:45 to 7:15 (singers, can we do a quick warmup at 6:35?) and then straight into cast picture.
Sept 10 Note from Kevin Jones about Costumes
Tech week is upon us! You all looked great in your costumes and we will continue working on them throughout the week. So we may ask you not to wear then at some point so we can work on them.
I do have to ask that you all please keep your costume pieces with your costume. Plastic bags are available for the smaller pieces (gloves, belts, ties, suspendors). They are all part of the costume and may be from COCA, The Rep, KC Costume or CMP. We need to keep them together so we can get them all back to the proper owners.
We found ties, suspendors, bloomers and costumes left laying around. That is not acceptable. Please take care of items as if they were your own!
Dancing ladies: please work with each other to find bloomers that fit and will work for you. We can take them in, but there are bloomers for everyone, so you may have to do some trading. Thanks!
Rehearsal Notes from Dianne Mueller from Sept 7
–reminder-sitzprobe and costume parade on Sunday.  Bring in any costume items you have at home please
Notes
Sorry I took so long to get to this.
Agnes and Tootie, We need to give you things to do while Rose is helping you get ready.  Fiddle with your clothes, wiggle as she is doings so that she has to straighten you out so she can work on your costumes.  Fidget.
AGNES
Run around the couch starting towards SR.  and fiddle with stuff.
TOOTIE,
Stand up quickly when you say He has Whiskey Bottles …." Lean towards Rose and put your hand by your mouth (your Right hand) as if you are whispering it to her.
ROSE
Be surprised and react to her sudden movement.
ESTHER
Cross USC when you deliver line " That was ….Return hammock"  Then cross in front of everyone to get to couch.  Do you want your cross stich for this scene?  They can preset it here.
TOOTIE
When you say John Truitt knocked me down.  Sit up and look at Mrs Smith.
AGNES
When you say the "Rose you are so stuck up"  Lets try having you cross to the couch and sit down.
JOHN
When you sing "Doesn't try to please me…"  Cross  behind Esther  and then when you get to the line "Glance her way"  Take her hands.
ESTHER(I know you asked me about the changes in this scene and I told you it was John's blocking  I was changing, but as you see I need to add stuff for Esther too 😊 )
When you say keep looking at him holding his hands "Oh, no John, I'm not wonderful…"  then at "…..I'm far from wonderful" take your hands away and  X away from John back to him, a couple of steps.  As you are still looking away say "One of my shoulders is higher …"  until you get to the part "….I mean flaws in my character"
JOHN
Follow her when she gets to "…and there are hundreds of other defects…"  So that you are behind her when she turns"  Takes her hands as she is saying "…And I….I" and finish the song holding hands and looking at each other
AGNES AND TOOTIE
With the Tell us Tell us line, don't worry about whether you say it together, don't hesitate if the other one is behind or didn't start at the same time.  In real life that is what would happen.  If you wait for each other and try to say it in unison , it will sound awkward.  After you line "Tell us Tell us"  Don't sit down until Mrs Smith says "Oh is that all, I think we can manage…" you don't want to break the tension of what exciting news until you think it is no big deal.
TOOTIE
When you say, "but I don't go to school"  Stand up.  Then Mr Smith cross over to her more and lean down to her face to face for your line to her, maybe tap her nose.
When you say the line about digging a tunnel, be more animated about it, talk to Agnes and try to draw her into your excitement about this tunnel.  Then when you say "And I am not leaving until it's finished"  glare at Mr Smith with your hands on your hips.
ESTHER
nice job running to the door and checking yourself out before going to the door, add to that checking  your face in the mirror, maybe pinch your cheeks.
JOHN
Good turning out as you are frustrated about tailors, however you need to glance back at her about your frustration with Basketball, you need to continue to include her in your conversation while still remaining out towards audience too.  😊
WALTZ
We need to figure out this scene change.  I know I told some of you that you need to let the house pass you before coming out, however I think you will need to get out before the house is places.  We may start the dance before the house is all the way set and the back drop is completely pulled.  We will have to figure this out to make it as seamless as possible.
LON
When greeting Warren yes you should shake his hand…maybe have a bit of a struggle getting arm away from Rose, because she is being difficult.
WARREN
when Lucille says "Do you deny it"  Look down as if you are embarrassed and then kinda peek at Rose to see how she is reacting.   You would not leave Rose's side at this point.  You do not want her getting away.  Also when Rose is talking to Ess, don't look confused, you can try to ask her like you did, is everything alright,  in a concerned way but when she blows you off,  drop it.  Just think…Oh it is a girl thing…I will just ignore it.  You do not want to risk upsetting Rose, you are finally "with" her.
JOHN
When you say the line "I can get a job right away "    turn back to Ess and take her hands to convince her and yourself,  then turn back out dropping her hands and talking out as you are thinking through all the rest of the things you say.
TOOTIE
When Ess pulls you to her on the couch, put your head on her shoulder.  She is comforting you.
WARREN
When you get in there Point at Rose when you say "Rose we can't go on like this any longer…"then drop your hand and finish your line"  Then point at her again when you say "I love you"  drop your hand and say Merry Christmas, just like you did, that was great.  You also need to exit back out the door, it looked like you decided to stay somewhere in the house, we are not sure where you went. 😊
Offstage Team Info from Jen Kerner posted Sept 8
Brace yourselves… Tech Week is coming!! As we get ready for sitzprobe (which is my favorite day of the year), I wanted to give some final details on the preshow…
To make it simpler for everyone and to give our Wonderful Wizards of Wires enough time to do mic checks – *all* preshow people will start at 6:45 now (1:45 on Sundays) and end at 7:15 (2:15 Sundays). That gives us 30 minutes in the commons, just long enough to set the mood without things getting old. 😊
Plan to be there plenty early, *especially* if you are miked. We'll need to be fully stage-ready – in costume/makeup/hair for first scene, and miked and sound-checked – before we enter the commons… because by the time we get backstage again, basically what will happen is we'll have prayer and then it's go time!
For tech week, I want to run preshow starting at 6:45 on Wednesday and Thursday. If you can't get there that early on those nights (and I know already of a couple who can't), let me know.
I do *not* plan on running preshow at brush-up at this time.
THANK YOU to all who are part of creating the atmosphere of the show before ! I love how invested you've all been in it and the ideas you've brought to the table, and I can't wait to see it all come together with costumes and all.
A Note from Gregg Mueller about Running Solo Parts posted Sept 8
OK, down to the wire, now! If any soloists want to go over their parts I am available tonight after 8 or so (at my house – I will possibly be without a car, and need to get the lawn mowed first), and also tomorrow (Saturday) afternoon and evening. At some point on Saturday I will be at the church putting the drum kit together, but I'm flexible on that time. The morning is taken up with other rehearsals.
Then, tech week, I am available after Sitzprobe, and before (briefly) and after (as long as is needed) each rehearsal.
Cheers!
Rehearsal Notes from Dianne Mueller Sept 5
Overture
VICTOR
exit DSR after messing with the girls.  Try running around them first.  And stick your fingers in your ears and stick out your tongue.  What you are doing is a little too contemporary.
Girls Come more Down stage when playing…I would prefer London bridge or ring around the rosy.  Those will be recognized by people and they are very old games.
TOOTIE
When you come out, look at all the people outside, and lean on the railing on Stage Right and look at the trolley. Wave at the people on the trolley.  Also, when Lon and Agnes go inside, and Mrs Smith and Katie are talking run off the porch and join them and kinda skip around them like you are happy to see them, then follow them up the stairs and into the house.
POSTMAN,
do a little bow and hat tip when you greet Tootie.
AGNES
Good job adding what I asked Thanks.  When Rose scolds you react more and when you put your hands on your hips turn towards and lean in.
ESTHER
Good job.  We already talked about more changes on Boy next door.  It is looking really good.  There should be a black out after that song, so you can wait for that, to exit.
ROSE
When Agnes says line "Grandpa why is Daddy so mean about his bath"  Try moving to the SR side of the couch as if you are interested in what they are saying.  You are blocked and have been sitting there for a while.  I want to bring you out.   This does mean you will have to move more to get to Agnes, but I think it will work.
AGNES
During the beginning of the song, when Rose and Esther were not holding your arms, even if they are supposed to, do not hold them out like they are.  Your arms should only go out by them holding them.  If this happens you need to just adjust.
WHENEVER I'M WITH YOU
The mass exit….we cannot all go up the stairs it looks silly.  Lets have Agnes and Tootie go out Up Stage Right.  Grandpa go into the kitchen for a snack and Rose go upstairs.
TOOTIE
great job on the "Bloom" line that was exactly what I wanted thanks. After you finish that line you need to cross in front of Rose and Esther when you go to the table.
AGNES
Need to punch harder.  I really want to see it.  (sorry Joel..:-) )
TOOTIE
When you say line, "I'm going to bury Bridget…"  try either standing up and facing him and saying that line or try turning around in the chair on your knees.  Then when say "Yes papa" turn around and sit down.  When Mr. Smith askes you about if you knew about the call "Good job telling the people at the table the story, try looking around more at everyone at the table, then when Mr Smith says "Tootie" again, turn towards him and say "Yes Sir"
RAVING BEAUTY
We will be working on this tomorrow.  Party people in the house, so not look out the window. We can see you.
BANJO
Good watching…Let's do it more.  Also you need to be mouthing the words even if you cannot sing them.  It looks like a bad Japanese movie.
Rehearsal Notes from Kathy Eichelberger Sept 5
Singing notes for chorus/ dancers
Skip to my Lou
Men make sure to come in on… And if you don't get home at all, Your pa will understand
Sopranos and Tenors on measure 70- Skip to my Lou- need more of the high part on those two Skip to My Lous- this is right before Joel says Corner Boy
Only Esther says " Skip"
The Banjo
The first lyrics we sing are:
Banjo dancing the Banjo
After the dance break the words are 
The Banjo, doin the banjo, steppin the banjo, struttin the banjo
A Gateway straight to romance- cut off on beat 9
Trolley song
2nd verse…..
Chug, chug, chug went the motor,
Bump, bump, bump went the brake
Thump, thump, thump went my heartstrings
As we glided  by Huntington Lake
Watch the words
I tried to sing, but couldn't squeak in fact I felt so good I couldn't even speak
Huntington Park — if we are feeling it in one… just hold for two beats
Gentlemen sing harmony  on The day was bright—
Kathy Eichelberger
Rehearsal Notes from Dianne Mueller from Sept 3
HI everyone.  Sorry it took so long to get these out.
OVERTURE
This is looking better. 
Sarah D and Kimberly, when the trolley is center stage and you are standing next to the post you need to be keeping yourselves  busy.  You are just standing there singing.  Sarah you can bend down and talk to kiddos by you.
Kiddos that skip in front of the Trolley before it starts to move SR.  You are also just standing there waiting.  I would like you to come down stage right a bit more and play ring around the rosy or London Bridge until it is time for you to skip in front of the trolley.   If you are not sure where Down Stage Right is and where I would like you to do this you can come up to me as a group before practice and I will show you what I mean.
TOOTIE AND POSTMAN
We will be working on this on Thursday.  Dropping doll was good and thanks for not looking at me.  J
LON:
Good exit into house and Agnes too.    When you get inside Joel, you need to stash the unopened catalog and the opened one needs to be preset on stage somewhere you can get to it so that you can look through it. 
ESTHER
As you are walking through the room with the racket, by the time you are CS and you get the part …On the tennis court today" put the racket on your shoulder and then turn. To start your part of the song.  At that point you can take the racket down when you feel comfortable doing this, at one point before you finish singing your part you could perhaps dance with the racket like it is a dance partner.  Maybe on the part where you start to sing "We will dance the hootchie  kootchie.
LON
When you start dancing with Tootie during the octet, can you bring her DSL on the lower platform…and counter Rose and Agnes who are DSR on the lower platform.
LIGHTS
We need to light DS Platform for this song and for Whenever I'm with you.  CUE  24 has a weird DS light On.  It was probably the one we couldn't find before that popped up when we were working on lights.  CUE 36 is weird too.   Need more DS light  for  or after CUE 51 (page 53) for the song "Touch of the Irish"Cue 68, Esther's face is dim as she looks towards SR.  Don't know if there is something we can do or not. 
KATIE:
Try pointing at Esther  when you say "Don't go blaming your sister"
ESTHER:
Turn out to Audience  dramatically and stop working on the table when you say line, "She would  be loath to say …"  and back in again when you say " Particularly if that man….. "  Start working on the table again when you  say "…Although we love Rose…."
AGNES:  over all you did a great job adding more character. Thanks.  When you say the line "you mean the back yard?"  Stop looking for the cat and turn towards Stage Left as if you are looking to the back yard and point your thumb back that way , you are kinda confused and sarcastic.  Not sure why Rose is acting so weird.  Then turn back to them to tell them what your mom told them (no longer looking for your cat)…Rose says her line about tearing you limb from limb.  Look at her defiantly with your hands on your hips (do not pop your hip) and deliver your line. You are mad now, because Rose has just said some fighting words and you are ready to fight.  When Rose Stands up you give up and then start looking for your cat.
ESTHER
 when you sing "Though I live at 5135…." Start walking to the SR side of porch and as you reach the End of the porch put your hand right hand on the post turn out as you say "he lives at 5133"  still keeping hand on the post.  At this point you begin the Refrain on page 15.  Put your left hand down on the rail in front of you with your hand reaching  the post  and lean your head on the post. "How can I ignore the boy …." As if you are taking comfort from the post.  Then when you start "Doesn't  try to please me…"  Start walking SR to other side of porch as you drag your hand along the railing.  Get to the next post by Glance my way"  and look over to his house.  Stay on this post with left arm around it and right hand on the rail or the ball part of the rail until  you get to.  " I just adore him …."  Start walking down the steps so that you are off the steps by "Someday soon he'll be strolling by" so that you can do the strolling part.  Very nice job on song.  You sound wonderful.
TOOTIE
When you are playing with the dolls on the stairs, you don't have to have them all in your arms at that time.  You can have some sitting on the steps and set up like you are playing with them and have them have a tea party and so on.  When you move to the downstage steps with mrs smith moves you , you don't have to take all the dolls you can leave a couple you have set up sitting on the stairs.  That way you can get back to the landing and set up for the fight quicker.
MR SMITH
Good timing on entering the house.
TOOTIE
After you stand up and talk to Mr Smith about doing another job, when you sit down again move to the SR side of the steps and sit facing SL.  Watching play with the dolls was good, I like you trying to put the head back on.
WHENEVER I'M WITH YOU
We will be working on this Thursday.  Some notes now.   Lon nice job trying to cheer up Tootie, Try tickling her too.  Rose and Esther, I am going to try to think of some things you can be doing with Agnes as we are focused on Lon and Tootie, at this point it just looks like you are waiting for a cue.  If you have ideas, I am interested in hearing them.
Don't move from behind the couch and line up for the march to the dinning room until the musical break so that you are not just standing waiting to cross.  J  all little things, to fill in dead time.  J
KATIE
Close to the end of the song, when you and Agnes are dancing, try twirling her on the last "Whenever I'm with you" before Mr. Smith interrupts the song.
After the song you need to have purpose and you need to leave the scene.  You should all start laughing. Tootie I want you to grab Agnes to have her help you with the dolls you were playing with before once she grabs you Agnes, you two should run to the steps pick up the dolls and run upstairs.  We will work on the rest of the exits.  Katie, I liked how you got to the table and then looked at the scene and made this look like, I should probably get out of here. 
YOU'LL HEAR A BELL
There will be a black out.  Don't need to leave until then. 
TOOTIE
When you are ease dropping on Esther and Roses talk about kissing John Truitt, I want you to jump up out of the chair very excited pull on Roses sleeve to skirt, so they can turn to look at you when you deliver your line.  "Bridget  Rockefeller had  too much bloom…" then when you finish that line and Lon says his line "Oh good another funeral …"  Look at him then turn back and  cross in front of Rose and Esther to the table. Esther and Rose look at each other kinda amused and then give her room as she crosses. 
AGNES
Cross the dinner table slower, or a little later and do not reach it until Lon says "I doubt it" (referring to the line "Maybe someone will propose to you…") Instead of kicking under the table, I would like you to punch him in the arm. 
GRANDPA
When you say line about Joe…When you say the part about"… have a seat" look out towards DS as if you are looking at the whole family at the table.  Your expression is so funny I really want people to see it.
TEEN DANCE ENSEMBLE
I don't know if you did this on purpose, but I really liked the talking sounds when the door opened as people walked into the party (this is when the house was Stage Center before "Raving Beauty."
ESTHER
As you pass Lon and you say "  I didn't quite catch the name"  look back over your shoulder as you walk past  Lon as if you are asking him what John's name is again.
TOOTIE
Do not be on stage for your off stage scream.  I could see you .  don't worry we will hear you, you have a mic on.
ESTHER AND JOHN
Move fight DS John exit through Sacristy, not the curtain.  If you don't know where that is, just ask me.  J
AGNES
Again good job adding more character.  Do not pop your hip when you say "Oh Rose you are so stuck up"  That is too contemporary.  Just put your hands on your hips.
JOHN
When you are showing Esther your wounds, I need you turned out more.  After she asks about your chin and you say "yes….and this…"  The second wound I want to be you right hip, turn it out so that you are open to the audience, then take a step towards her for each other wound you show her.  Please try cheating out more.  Show off your right arm your right elbow.  If you show something on the left side of you then go back to the right side so we can see it.
TOOTIE
When papa comes home and you tell him about your tooth and your perfect Halloween, I would like you to jump up out of the chair and cross over to him.  Then go back to where you were, maybe someone call her back to them.  I don't remember who is  in the area she needs to go back to.
MR SMITH
When you are telling them all about moving when you say the line.." We'll leave right after Christmas Look SR towards the couch.  (It seemed you were neglecting that part of the room and this opens you up too. )  Good move in bringing Agnes over to see if she wants to share the candy flower.
MRS SMITH
Stand when you say line "What do you expect.." it is more powerful that way. 
GRANDPA
Enter the stage when the line "One sister going with her brother going…"  so that we see you listening.   When you are telling her about a suit stepping out, instead of going to her right and taking her arm, cross behind her and take her left arm and start to Promenade with her from there…keeping the angle do she is not upstaged then she can turn towards you when she says "Grandpa, are you inviting me"  .  You will now  be on SL and She will be on SR.
THE WALTZ SCENE
The couples who are lining up on each side as the two couples are dancing in the middle, go ahead and line up as soon as the house is clear and you can get on stage. Once Those dance lines are ready the couples that are on the sides on the lower platforms can also start to come out.   The Backdrop does not need to be pulled for these groups.  We may start the dance sooner.  I may start the lights coming up sooner and  slower so that as the lights go up the back drop is drawn.  And then the rest of the couples that are standing on the raised platform can come out.
ESTHER AND TOOTIE
During the part of the scene right after "Have yourself a merry little Christmas"  End up more SR in front of the chair and couch area.  The lighting is better there.
MRS. SMITH
Stand on the line "We haven't rotted yet Lonny"
MR SMITH
On line "The problem with all of you is…" Look towards Katie, she has been completely neglected in this scene so far.  Include her in this.
A NOTE FROM KEVIN JONES about COSTUMES Sept 2
We are fast approaching tech week…aaagh, and i gotta be honest, 1904 clothes are beautiful, but I never want to see another bow, ribbon, ruffle, arm puff, etc. LOL
WOMEN: just a reminder that we aren't making you wear corsets, but you should wear spanks, sincher or something to help with the defined waist line they had back then.
MEN: if you are a lead male, your costumes will be in on Tuesday!! I would ask that Grandpa and Mr Smith arrive at 6:30 to start fitting costumes. Lon, Warren and Jon, we will call you back through out the evening.
We will be having a costume parade, probably next Sunday as we start tech week, but more info will be following on that. So start bringing in your costumes that you have at home.
Can't wait to see your hat creations!!!!
Just sewing away…
Kevin
A NOTE FROM JEN KERNER about the Pre-Show portion of the September 3rd Rehearsal Sept 2
Details for the pre-show rehearsal on Sunday:
After the overture/first scene that several of us are involved with, I need these people in the lobby:
– Anna, Nataleigh, Rose, Delaney (Karen has a conflict) in the cafe seating area
– Kids (Sofia, Lillie R, Lillian M, Roman, Katie J, Grace H, Emily C, Lucy M) in the area by the fish tank
– Rich, Victor and Robert My goal is to have all of you doing your thing at the same time, and also practice gathering for the chorus of "Meet Me In St. Louis" we'll lead the audience in right before we head off to the green room, so I can get a sense of how well it all works together and if I need to adjust where any of us physically are.
I'll be bouncing back and forth among you, so I'll be available to offer support if you need, and I trust you all to be working independently. (I will stand in for Karen in her scenes in the cafe area.)
Others with down time (singers, dancers, parents of kids, etc), please feel free to come join us for a few when you're not in a scene and be "audience members" for these folks to practice interacting with! Especially for those who haven't done anything interactive like this before, that would be a HUGE help!
I'm eager to see all of you in action, and glad to have some time to dedicate to all of you.
REHEARSAL NOTES FROM DIANNE MUELLER Regarding the August 31 Rehearsal
Nice run tonight. 
Here are my notes.
AGNES
I talked to you about this already, but I am going to put it in the notes anyway so you have something you can refer to. 😊  When you say "We won't" start fiddling with your costume and  your mask…You need to keep busy, you are trying to get ready to go out for Halloween.  You could even sit down and adjust your shoes.
When you hear the Oooow…look frightened and look around when you say "What's that" …keep looking around, you are scared.  Then when you say "Did anyone hear a groan right now?"  end that line looking at Rose.  This will open you up to the audience. When grandpa says "you mean like this Oooww"  nod your head  for a while and look really frightened again because that was exactly what you were talking about and you are really scared.
When you come back in the house to tell Tootie about what you did, when you get to the line about Katie's dress, you are really proud of this, and excited to let everyone know how cleaver you are.  I would like you to say the words in your line "stuffed it"  and look at Esther, this is to help open you up and animate you more.  This whole part of the story you are telling everyone and you want everyone to know how clever you are.
JOHN and ESTHER
I want to work "Boy next door" I am going to look at it and try to add more blocking.. 😊
A DAY IN NEW YORK 
MRS SMITH, nice reactions to Mr Smith as he is singing to you. 
MR SMITH, good job with the energy on this, I want to add some more family interactions, as you are singing.  I like how you pull Mrs. Smith up so I want to add some more of these types of things.
When you get to the line "People are friendly…" you let go of Anna and cross to center, that is good, but then when you get to the line "Scintillation and smart …"  Start to cross in front of the couch and as you pass Rose turn around and sing directly to her bend down to her and cup her chin in your hand. At "and generous of heart in New York"   start to walk behind the couch and put your hands on Grandpa's shoulders on " Breezy and easy the Spirit of Manhattan is"  you could even try swaying  him as you sing it. Then continue crossing behind the couch and cross to CS. I would like you to reach CS by the line "There's a spring in their step" and do that Bell kick again, I liked that.  Then as you get to the next line "They'll welcome you into the fold… "  start crossing to Esther.  I would like you to pull her up from her chair and make her do a twirl on "than old new York" 
ESTHER sit down right away after he twirls you.
At this time the family is talking to you so cross to center stage and the rest of the song is fine for now. 
AGNES
Stay on stair landing, until you say line, "Goodness don't they have houses…" Then cross to the couch.  And stand like you did today on the line "It'll take a months "  stay standing and watch the others in the room as they start to leave.
AGNES
after you come in to tell Esther and Rose about the boyfriend on his way, when you say the  line "someone who looks a lot like John …"  Continue to walk and cross in front of Esther and Rose. After you have passed them turn back to them, you are curious about why he is coming and what is going to happen at this point you have every intention of staying there to watch, Rose drags you upstairs and you really don't want to go, so resist her a little.
MR SMITH
When you come down the stairs and are watching Tootie and Esther, that was really good, however I would like you to move to the landing portion of the steps when you deliver your line. "What is all this racket…"
 I know we do not have all the props out yet for the scene, you did a great job of looking around. As the scene began Tootie was playing a music box, at this point it should be by or on the couch somewhere.  The last thing I would like you to do it pick it up and open it.  I would like it to play, however this box is not triggered by opening so before you open it you will have to turn it over and crank it about a quarter of a turn to get it to play a little,  after you have cranked hold the key until you open it so it looks like it was trigged by opening,  then as it winds down start calling the family down. 
SMITH FAMILY
nice entering when called.  Katie I would like you to come further into the room.  Go all the way around the table (SR side of it down CS) and then sit in the DS SR dining chair, let's see how that looks. Rose move piano stood SL a little before sitting.  (I know that is not center of the piano, but we will see you better.)
WARREN
Obviously timing on your entrance should be sooner…😊 We will keep working on that.  You need to be in the room so you can cut off Mr. Smith.  Walk in to the room and say "Rose we can't…."  You need to cheat out more, all I see is your profile.  Step forward with up stage foot, point with up stage hand…on the word Rose.  after you say "we can't go on like this" drop your hand but stay turned out on "  Then Point at her again using up stage hand and say "I love you"  and your exit was great!!! Very awkward and funny.  
REHEARSAL NOTES FROM DIANNE MUELLER Regarding the August 30 Rehearsal
Good practice everyone.  Things are coming along. Thanks for all your hard work.  Here are some notes, just remember, most notes are things that need to be fixed, I am very happy with where we are, just time to tweak and make it better. 
As we continue to run the acts, remember you need to be focused and listen so that the people who are getting directions can hear, and you can hear as well.  It can be hard and frustrating for people who are trying to listen to have a lot of talking around them.  This will also help us get through things quicker.
OVERTURE
This is looking much better with the changes, as we continue to run it, things will get smoother. 
POSTMAN AND TOOTIE
We will be working this scene more next week, so I won't go into great detail, it is getting better.  Tootie good job swinging on railing.  When you drop the doll don't look at me…😊 just stay in character, and look at the doll dead on the ground.  As I said we will work this scene more next week.  It is coming together nicely.   Robert when you waved at Tootie as you were leaving you upstaged yourself by using your upstage hand to wave.  Open yourself to the audience and wave with your downstage hand.  I hope that makes sense. 
OCTET (Meet me in St. Louis)
ROSE 
When you enter the scene instead of stopping on the SR side of couch cross in front of the couch as you sing your line go around the chair and stop on the SL side of Lon.  This will open things more and get action more CS.
MRS SMITH
 I think when you dance with Grandpa, let's put you guys DS L counter Tootie and Rose.  Let's see how this looks. This may put Katie and Agnes more CS then on top platform.  (I may have this mixed up…we will be working this scene next week too.)
MRS SMITH AND ROSE
During line after Octet, Rose says the line "Mother I had the most….."  When Rose says "Mother." Mrs. Smith should look up and then start to cross towards Rose, this conversation can then happen CS.  Slight pause after mother, to give time for Mrs. Smith to start to cross and Rose knows she has her mother's attention.
AGNES
Come out sooner when you are calling your cat.  There is too much of a pause.  You should already be there when Rose says "too bad we don't have beaus to escort us"  so that when it is time for your line you are already on stage looking around for the cat and then your line should start right way.  And keep looking for the cat then when you deliver your lines… when you get to the line "Oh and mom said…"  You stop and look up at them as you remembered you were supposed to tell them this.  
JOHN 
When Rose says to Agnes…" I ought to tie you to two wild horses…."  Start to leave.
WHENEVER I'M WITH YOU
Couples that are DS Dance further downstage during the couple dancing.
YOU WILL HEAR A BELL
ESTHER, when you say the line "Was it love at first sight?"  Take one or two steps towards mom.
There was something not quite right with the blocking during the beginning of the song…Hmmm. 
MRS SMITH, it seemed like you were not sure when to cross in front of the couch, you were going back and forth. Take a look at that and only move once and stay there.  Esther, nice move to couch, do it as Heather does her cross in front of the couch.  I think at that point Heather you were going to go behind the couch and cross behind it as you walk towards Esther, then go down to her level and sing to her and kinda hug her, then finish the behind the couch cross go to the chair and sit and sing to her from the chair. This will help give Jennelle something to do as you walk around her because she can then follow you with her head as you move from place to place. Let's see if this is better.  I think the rest was fine.
SCENE THREE
The song "you will hear a bell" finishes and we are going to go to a black out.  It is 30 minutes later.
STAGE CREW, needs to add the two extra chairs during this black out.
When I first blocked this, I wasn't sure what I was going to do so that is why we were not sure about where you needed to be.   When the lights come up from the blackout I want Tootie on the couch, Esther on the chair, Mrs. Smith on the SR side of the table and Katie somewhere next to Mrs. Smith.  (Probably where you were tonight is good, as if you just came out of the kitchen.)  I am thinking Tootie should have a doll. 
AGNES be coming in the door during the line, "Mrs. Smith if I have to keep lying for your daughters I am going to need more money. " then she will be in the house in plenty of time to deliver her line.
SMITH
When you are having trouble hearing on the phone turn out to the audience when you are saying "No I am not calling New York," as if moving will help you hear better. Also make more of a pause before you let Rose answer the phone.
ROSE 
Turn towards audience when you start to cry as if you are hiding it from the family.  (you were doing it at the end, but try doing some at the beginning too.. )
TOOTIE
 don't break character. You are doing great sweetie, and the scenes can be long, but as soon as you are dazing off Tootie disappears and I can see it…😊
ESTHER,
Try standing when you say "I" "it's I "then sit as if you are embarrassed that you were correcting her.
KATIE
I love that you are next to Rose on the phone…perfect.  
RAVING BEAUTY
We will be working that next week too. 
JOHN
Too much hands in pockets.  We need to get a hat in your hands. Also, when Esther hands you the hat you need to look at it as if there is something on it, pick it off.  She has hid it in the kitchen and something got on it.  Also, don't put it on your head right away, you do not wear hats inside, you wouldn't put it on until you were walking out the door. It is a good prop to play with.  When you are trying to remember the words of the song, cross Down Stage more, then move down little by little.  Once you get to the chair, only put one hand on it, putting both hands on it is looking awkward.
TEEN DANCERS
I liked the new crosses at beginning of the scene.  I have a couple more I may add on stage left side. Also we may not need a black out…it looked kinda nice with all of you just coming DS after the house was moved to the side.  You should be talking and chattering as you come down and get to your spots. We will try that for now.  JOHN and LON just need to get themselves Down Stage to start the scene. 
 SINGER and FAMILY ESEMBLES,
Nice job.  I meant to ask how the space was in the back.  We are still working on where to put the mics, Those of you who have  mics on don't need to position you selves in front of the other mics because we will have your mics on.  So that is also a reminder not to talk.   Also, once you go off stage or once a song is finished do not talk, it takes a while to get the mics turned off.  The Party scene I would suggest no one talk, because the scenes between are very short and mics may stay on the whole time .
Thanks so much everyone.
AUGUST 8 9 am
UPDATE ON Pre-Show and Intermission BY JEN KERNER
Jen has provided an updated schedule and assignment list for the pre-show and intermission work in the commons.  PLEASE CLICK HERE for the latest.
JULY 18 9 AM and earlier
Costume Information
A note from Kevin Jones on costumes… for women we would like flesh colored tights/hose, and tan/heel character shoes. Young girls will need white tights for under their costumes.  Click here for a copy of the handout from the July 17 rehearsal for your reference.  Women/girls are to make their own hats to go with their outfits. Guys we will be provided with hats (unless they have something on their own).
JULY 18 9 AM
Cast and Crew General Information and Guidelines
A Click here for a copy of the handout from the July 17 rehearsal for your reference. 
IF YOU NEED ANYTHING

please post to the Facebook page or send an email to CMP@CMPShows.org.  If you have an urgent matter or are running late to a rehearsal or anything requiring immediate attention, please text or call Larry Jost at 314-223-3162.  We are always here to help!